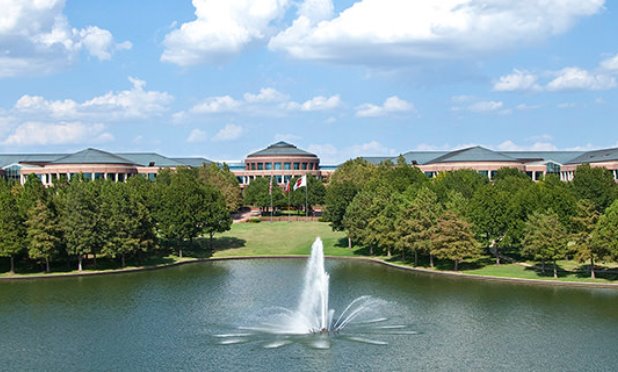 PLANO, TX—In a pivotal transaction to coincide with activity in nearby $5 Billion Mile, JCPenney sold its headquarters to Dreien Opportunity Partners LLC, general partner of Silos Opportunity Partners LP, for a gross sale price of $353 million before closing and transaction costs, GlobeSt.com learns. The company previously announced that upon the transfer of ownership, JCPenney would lease back approximately 65% of the building, leaving the remaining approximately 600,000 square footage available for new tenants.
The building lease expense would be offset by a reduction in maintenance costs, property taxes and interest expense as a result of paying down debt with proceeds from the transaction. A $450 million acquisition loan was secured for the repositioning of the 1.8 million-square-foot headquarters for JCPenney and surrounding 45 acres of developable land.
The new owner plans to sell and/or develop the surrounding acreage and reimagine the existing building to create a bold environment for both JCPenney and the new occupants. The property's location, adjacent to the $3 billion Legacy West development, is just west of the Dallas North Tollway. The campus sits at the center of one of America's fastest growing corporate hubs. New developments include Toyota's North American headquarters as well as headquarters for JPMorgan Chase and Liberty Mutual Insurance.
Avison Young served as Silos' exclusive strategic capital markets advisor. Its New York-based structured finance team, John Bralower, Justin Piasecki, Peter Steier and Ethan Blum, arranged the debt and equity for this transaction on behalf of an affiliate of veteran Dallas real estate investor Sam Ware. The purchase was capitalized by a major Texas-based financial institution with additional capital from undisclosed sources.
"We were delighted to have worked with our client on this transaction from the initial bidding process through the close. While ultimately all of the capital that funded the deal was domestic, it is a testament to Sam Ware's vision and the robustness of the Plano market that we had investor interest and term sheets from as far away as China and the UK," Bralower, principal and managing director, US capital markets for Avison Young, tells GlobeSt.com. "The capital stack we assembled will enable our client to effectively execute plans to revitalize the core asset while creatively unlocking tremendous additional value."
As recently reported, activity in the $5 Billion Mile is robust.