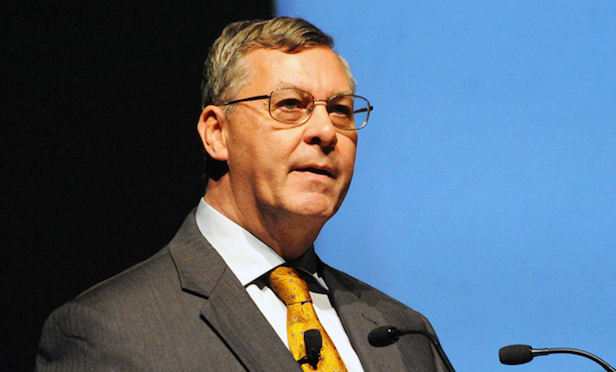 DENVER—Call the near-term outlook for apartments a mix of good news and not-so-good news. The good news, as Integra Realty Resources puts it in its 2017 Annual Multifamily Report: "with the exception of a few high-end markets that have gotten over their skis in the past year or two, the displacement of demand from the single-family ownership market to the multifamily residential market is making the rental apartment sector by far the stronger of the housing market segments."
There's a hint of the not-so-good news in that sentence: those markets that have gotten in over their skis. Or, as IRR consulting economist Hugh F. Kelly puts it in the new report, "Ten percent of US markets are already in hypersupply, where new construction is getting ahead of sustainable demand."
The report positions Washington, DC squarely in the hypersupply range, while Atlanta, Raleigh, Houston and IRR's hometown of Denver aren't far behind. Additionally, writes Kelly, "Downtown class A vacancies are in the double digits in markets like Baltimore, Hartford, Charlotte, Nashville, Oakland and Portland. Supply/demand balance is superior in the suburbs, and for class B markets in urban areas."
Marcus & Millichap's recent multifamily forecast notes that this year is expected to see about 371,000 new apartment units to the market, outpacing last year's delivery total of 320,000 rentals. It also makes the point that lower-rent properties have a competitive edge.
"Highly amenitized class A properties in urban locations will be the most challenged by new stock," according to Marcus & Millichap's 2017 US Multifamily Investment Forecast. "Assets with the potential to outperform include the class B and C tier, as well as those in secondary and tertiary markets that have not attracted meaningful interest from developers."
Kelly cites "strong motivation for builders" to focus on upper-income units, a priority that reflects both higher profit margins and the increasing cost of construction. However, he writes, "new jobs have been largely in low – and moderate – income occupations, and the 'diverted demand' of former homeowners comes with budgetary and credit constraints. The challenge for multifamily will be to broaden its range of offerings to match the full spectrum of demand."
Whether it's in the luxury rental class or workforce housing, the pace of new deliveries is likely to taper off after this year, says Marcus & Millichap. "Rentals slated for completion this year were authorized some time ago, but a recent leveling off in permit issuance signals that the wave of development will likely crest this year," the report states.
There's also a more conservative mindset among construction lenders, who are "critically assessing the experience of development teams, closely scrutinizing return projections and factoring in expectations of more subdued NOI growth." The Trump administration's proposed ramping-up of infrastructure spending could elevate competition for the construction materials and labor needed for multifamily development. "The likely crest of apartment construction this year coincides with easing rent growth trends," the report states.
Most of the softening in rent growth will occur in the recently delivered upper-tier assets, says Marcus & Millichap. Completions of luxury rentals will exert more pressure on the class A vacancy rate this year, while the outperformance of class B and Class C assets will encourage "a further reconsideration of investment strategies." However, according to Marcus & Millichap's report, "Most markets facing significant apartment additions also have a somewhat captive renter pool as home prices are elevated as well."