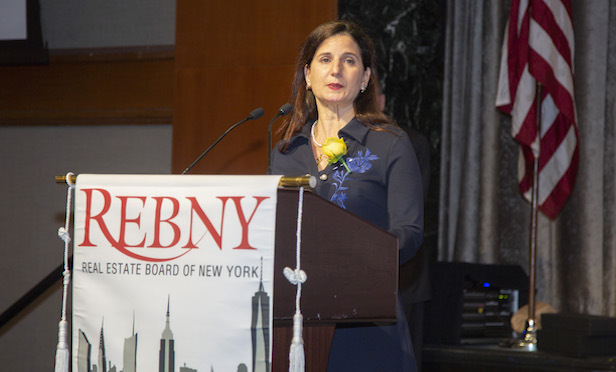 NEW YORK CITY—The Real Estate Board of New York hosted its 15th Annual Commercial Management Leadership Breakfast on Thursday at the New York Hilton Midtown. Boston Properties CEO Owen Thomas provided the keynote address in which he specified trends likely to impact the CRE industry in the near future.
Theresa Morzello, managing director for CBRE's asset services in New York City, was honored as the Edward A. Riguardi Commercial Management Executive of the Year. In 2010, REBNY had renamed the distinction in honor of Edward A. Riguardi, its first recipient. Riguardi passed away in March 2018. His son, Peter Riguardi, chairman and president of JLL's New York tri-state region, presented the award to Morzello.
As the first woman to receive the accolade since its inception in 2003, she shared her mother's advice: "If you really want something just focus on it, have no fear, be deliberate and stay strong."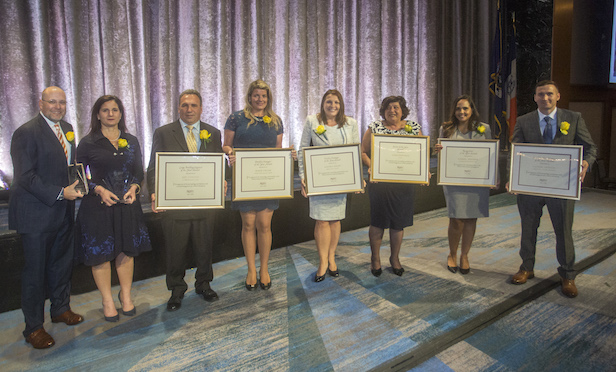 REBNY president John H. Banks noted not only was the top award winner a woman but half of this year's awards honored women. "We are gratified that more women in our industry are being recognized for their outstanding professional accomplishments, and thank all of the honorees for their dedication to our industry," he said.
The other 2018 winners recognized were as follows:
*Best Engine Room Award: Hines' 1585 Broadway
*John M. Griffin Community Service Award: Avi Itzikowitz, director of operations, ATCO Properties & Management, Inc.
*On-Site Manager of the Year: Sandra Hahn, VP and general manager, JLL
*Portfolio Manager of the Year: Diane Fields, portfolio manager, Empire State Realty Trust
*Rising Star of the Year: Massiel Santana, property manager, Cushman & Wakefield
*Small Building Engineer of the Year: Michael Johnson, chief engineer, Forest City Ratner Companies' Tata Innovation Center at Cornell Tech
*Large Building Engineer of the Year: Ron D'Amato, chief engineer, SL Green Realty Corp.'s 1185 Avenue of the Americas
*Security Professional of the Year: Jose De La Cruz, building security/concierge, Waterman Properties
*Porter of the Year: Maria Dedvukaj, forewoman, ABM