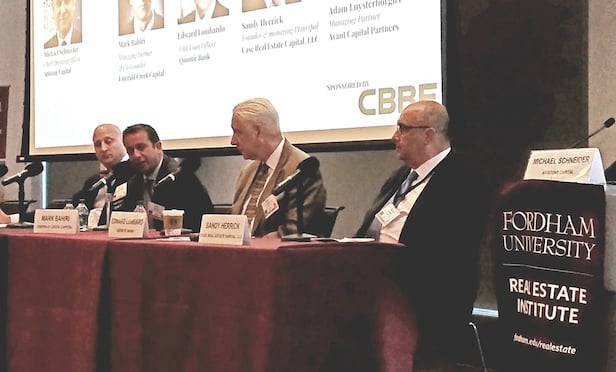 NEW YORK CITY—"The biggest challenge today that we haven't had over the past nine years is the rising interest rate environment," said Mark Bahiri, managing partner and co-founder of Emerald Creek Capital. He was one of the panelists at the Mortgage Bankers Association of New York Real Estate and Investment Summit, co-hosted with the Fordham Real Estate Institute on Tuesday. In the session on alternative lending, the panelists noted how their businesses would benefit with rising interest rates.
"I'm not sure how much more competition will enter into the space because of it," Bahiri continued. "Rates have been so low for so long that people had to put money somewhere."
He opined many people realized senior secured, commercial real estate, risk-adjusted investments were a good place to be. His company markets itself as a "smart alternative to conventional financing" and originates commercial bridge loans. "As rates are rising presumably there will be other places to put money and get better deals. So my hope is there won't be more and more new competition in this space."
Adam Luysterborghs, managing partner at Avant Capital Partners, which also provides first mortgage bridge loans secured by commercial real estate, agreed. "I think the folks that are going to enter this business are already in it now, in terms of developers reallocating capital towards debt and building businesses around allocating that capital," he said.
Luysterborghs added many are going to find it's not so easy to get the deals, then manage and scale them to be profitable business ventures. "I would expect a lot of the smaller bridge lending platforms that started over the course of the past year-and-a-half to fall out of the wayside. You might see consolidation in some of the larger middle-market bridge lending platforms too."
Sandy Herrick is the founder and managing principal at Case Real Estate Capital. With his company focused on short-term bridge loans, short-term sub- and non-performing debt, and mezzanine investments, he also predicted a reduction in competition. Herrick said alternative lenders have lowered rates, trying to find opportunities to expand their product base. He also predicted "some winnowing of the competition."
Edward Lombardo, CRE loan officer at Quontic Bank, said the economy is going well while the country is going through an adjustment with the interest rates. He observed with capitalization rates rising, the lowest tier of the A Group in the debt market is going to get marked down to B, and that is already happening. "That's why were are so busy," said Lombardo, who added "That's why I'm very excited to be in the place I am at now."