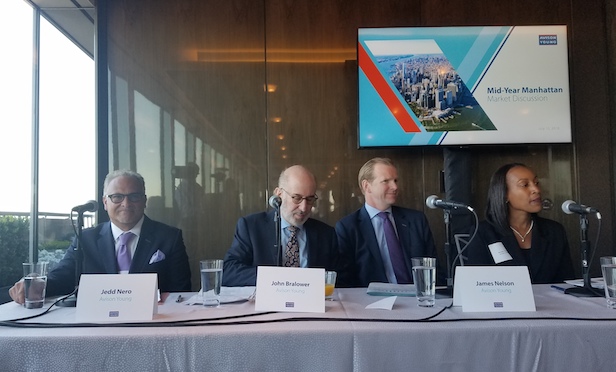 NEW YORK CITY—For investment sales for H1 2018, there was an uptick in dollar volume of 13% over last year, said James Nelson, the principal and head of tri-state investment sales at Avison Young. Optimistic about the market, he joined the firm approximately five months ago and now has over 30 people in his group.
The company's Q2 2018 Manhattan market report noted after a strong first quarter, "the second quarter tempered that trend with a mixed bag of results." The report indicated that for 2018, the transaction count was on track to rank ninth, with a projected $20.7 billion in annual sales, and volume ranking sixth in the past 10 years.
Nelson, one of Avison Young's panelists reviewing key highlights of the firm's latest reports, described a "Tale of Three Markets." He summarized three year-over-year conclusions of the H1 2018 Manhattan market report: (1) Multifamily and office sectors reached a 10-year high in pricing but with a decline in volume of activity; (2) Retail pricing dropped but volume increased; (3) With development, pricing and volume were determined by location.
Multifamily year-end sales projected volume is expected to decline 22% from last year. Pricing reached a high with the average apartment building trading at $1,086 per square foot. Nelson said that in Q2 2018, the average walk-up building sold at $1,440 per square foot, whereas the price was $1,050 per square foot for an elevator building. He explained that because walk-ups generally have smaller apartments and there is greater turnover, this resulted in higher rents per square foot.
The average office price was at $1,027 per square foot, with investors accepting just below a 4% return. "With offices, we are now seeing trades at over $2,000 per square foot in some of these premier locations," said Nelson. However, with these record prices, volume predictably fell.