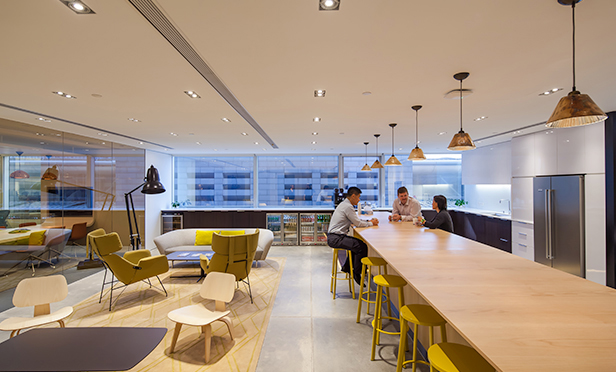 LOS ANGELES–There's a war for talent.
That's a key premise in a newly published Paper from CBRE entitled "Aligning the Workforce and the Workplace." It is the first in a new three-part thought series, Better Business Performance Through Better Workplace Performance, that examines the linkage between corporate and portfolio strategy, and provides perspective on better real estate decision-making.
While market share, expansion tied to demand and staying ahead of the competition are all drivers of business growth, CBRE contends that, if corporate occupiers are not thinking of talent first, they're missing the boat.
"When you lead with labor, organizations can avoid many of the growth challenges they would otherwise face," says Rob Marsh, executive vice president of CBRE's Labor Analytics consulting practice. "So think early and think hard about your growth strategy. Do the labor piece first—before you make decisions around location and portfolio strategy—and other things will fall into place to make your business more successful."
But that's easier said than done. As the Paper points out, there's a global shortage of labor, and according to a survey by Manpower Group, 43% of U.S. employers claim that this shortfall has impacted their ability to service clients. It's a challenge made even more so by a low unemployment rate.
As Marsh states, both location and portfolio strategies should be informed by the labor issue, and some non-traditional thinking about market location can produce surprising and impressive results. The Paper makes a strong case for looking beyond the major markets to find pockets of talent and concludes that occupiers who set their sights outside of gateway cities can not only find the talent they seek, but realize major cost savings–potentially as high as 70%.
The lead-with-labor approach has served CBRE clients well. "Labor is a front-and-center issue for our clients," says Marsh, "driving where they should be located for the talent they need."
While the primary focus of this first Paper in the series is on labor markets and the key drivers of talent today, it's important to recognize that labor, while absolutely critical, is only one consideration linked to location. For some parts of an occupier's operations or strategy, other important factors might include access to clients, suppliers and partners, and proximity to major transportation hubs. As such, occupiers will always need to undertake function and location analyses to develop a successful business strategy.
But how does a corporate occupier build a portfolio strategy based on labor? The Paper goes into great detail on the steps to creating a successful plan, and included are such issues as:
Developing a comprehensive portfolio strategy;
Market costs and market savings;
Hotbeds of talent: where labor is migrating; and,
How to bring together market data and boots-on-the-ground location analysis.
To realize the full potential of your workplace, download Part One of CBRE's Better Workplace Performance Thought Series now: Aligning the Workforce and the Workplace