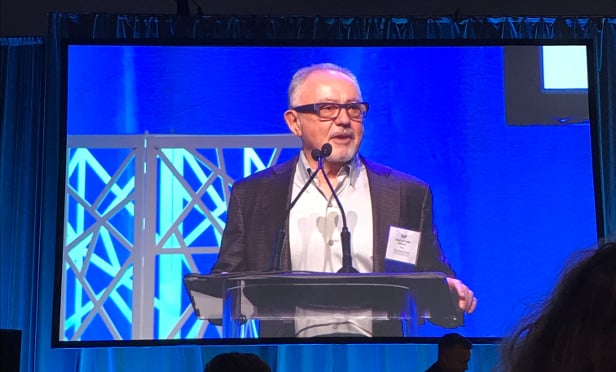 SAN DIEGO—The massive, mixed-use development project known as Seaport San Diego,taking place along Downtown San Diego's waterfront and Seaport Village has moved into its second evolution, Yehudi "Gaf" Gaffen, CEO of Gafcon Inc., told attendees at the BMC's 22nd Annual Real Estate Conference here Thursday. Gaffen addressed a full ballroom of attendees, offering a background of the project—spearheaded by the Port of San Diego—as well as an update on its progress and why it will benefit San Diego.
Gaffen explained that his staff was selected in 2016 to redevelop the area, expanding Seaport Village from 13 acres to 70 acres and including a wide variety of uses along the waterfront, including three classes of hotels, retail, a parking structure that can be converted once no longer needed into other uses, health-and-wellness area, an observation spire, educational and aquarium uses, a public beach, a park and a variety of open spaces intended to creating a true community feel that connects the city to the waterfront.
In fact, Gaffen said his firm won the Port's RFP because its program was solid and because its underpinnings involved building community. Since then, an active earthquake fault was discovered under the site, preventing development on a large swath of the site and moving it into its second phase of development. After also discovering lots of utilities running through the site, including sewage lines and naval sonar systems, Gafcon and its partners in the project began to look at some of the public spaces in cities all over the world that represent successful gathering areas.
Monterey was one of those cities. It connects the highly rated Monterey Aquarium to Monterey Bay with a series of local eateries and storefronts, and the aquarium was one of the models for the one Gafcon is building in San Diego. He also said the US has not been as successful as Europe in creating comfortable outdoor gathering spaces in its cities, and this project hopes to tackle that.
Also planned is a five-star hotel that will serve as the sister facility to the Rancho Valencia Resort and Spa in Rancho Santa Fe, CA, in addition to a more affordable hotel and a hostel with cruise-ship-cabin-size rooms. Scripps has the potential to create a research facility connected to the microhotel and hostel.
The observation spire aims to be an icon for the city, providing an attraction for tourists and locals to visit, view the Bay and celebrate various holidays with colored lights—similar to large buildings in New York City and Washington, DC—for creating "Instagrammable photos" at the venue. AR and VR technology programming are being considered to allow visitors to view the bay through the lens of a different era.
The project will also include 300 square feet of ground-floor experiential retail, a market building with public offices and a cinema, as well as a Chelsea Pier-like fisherman's market to boost the fishing community after the decimation of the once-vibrant tuna-fishing industry in San Diego. Villas along the coastline where mega yachts could pull in and out are also being considered.
Other aspects to the project include the expansion of the Maritime Museum, which would create more exhibit space; a public pool; an outdoor entertainment venue; a sport-fishing marina; and a small recreation area. The idea is to connect the city to the water. "It's frustrating trying to get down to the water," said Gaffen. Part of that is to "honor the water" with a variety of users and projects, possibly creating traffic circles along Harbor Dr. to ease traffic, as well as widening the promenade and creating a new boardwalk with a multi-level promenade.
Gaffen said the address of the project will be 1 Pacific Coast Highway, representing the start of this iconic highway. He said his staff will take over the Seaport Village site in the short term after Terramar's ground lease expires and will activate pop-up retail and services in that area. The partnership will own and operate the venue.