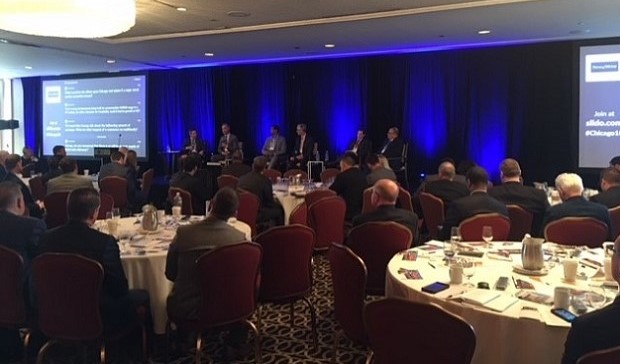 CHICAGO—The economic recovery has been going on for years, perhaps longer than most thought possible, with the multifamily market in particular showing tremendous strength. But after so many years of soaring construction numbers and solid rent gains for the sector, some trends have developed that, while not exactly causing alarm, require careful attention.
That was one of the challenges addressed at Marcus & Millichap's Multifamily Forum, held yesterday at Chicago's Mid-America Club. Joshua Hanna, an attorney at Kirkland & Ellis and moderator of a morning panel on the economic outlook, pointed out that the pace of investment has slowed, "and deals are harder to make happen."
Derek Lopez, managing director and head of acquisitions for GEM Realty Capital, agreed and pointed out that deal volume fell in both 2016 and 2017, and seems likely to fall again in 2018. Furthermore, prices are off by about 5% to 10% this year. He also believes one of the main reasons is the eagerness of lenders to make their own deals happen, giving landlords the opportunities to refinance and hold onto properties.
Still, even if many owners now exhibit more reluctance to sell, Hanna pointed out that there is no shortage of capital chasing deals. But with the cost of land rising, along with the costs of construction, what areas should developers focus on? Bob Flannery, president of CA Residential, had an answer.
"The fundamentals of downtown Chicago are so strong." He estimates the area has drawn an average of about 3,200 people each year since the 1990s, as well as about 100 companies since 2000, bringing tens of thousands of jobs. Best of all, "it's a highly-educated population," and these migrants drive demand for multifamily, office and student housing.
But even with all those strengths, Hanna wanted to know if the panelists saw any vulnerabilities. Specifically, should people be worried about any developments in the broader national economy?
Steven Weinstock, regional manager, Marcus & Millichap, said real estate was "a business with cycles; it's going to occur, and there is nothing we can do about it." However, considering all the strengths of downtown, whatever happens in the national economy will probably mean at worst a modest correction for Chicago.
Flannery agreed that the city's fundamentals, and economic diversity, "puts us in a position to weather any correction."