BY THE NUMBERS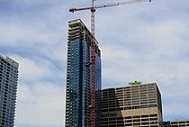 CHICAGO—Chicago-Naperville-Elgin is the best metro in the country for people working in construction and extraction, according to a study by RentCafe. Here they are left with the most money ($36,700) after covering living expenses out of all the metros. When looking only at Chicago metro, people working in management are left with the most money at the end of the year ($54,900) and rank as the highest paid in the area. Those in food preparation and serving related jobs are at the other end of the financial spectrum, left with a $6,600 debt after covering living expenses.
NEWS & NOTABLES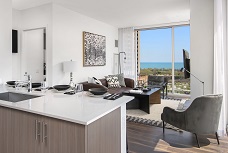 CHICAGO—CA Residential LLC, the multifamily investment and development division of Chicago-based CA Ventures, together with joint venture partner K Giles LLC, says its Eleven40, a mixed-use, transit-oriented development in Chicago's South Loop, already is over 50% leased less than three weeks after welcoming its first residents. Located at 1140 S. Wabash Ave., the 26-story, 320-unit apartment tower, designed by Solomon Cordwell Buenz, is steps away from the CTA's Roosevelt station, which is served by the Red, Green and Orange lines. "Our team couldn't be more thrilled with the progress of leasing at Eleven40, which speaks not only to the quality of the building, but also its desirable location in the heart of the South Loop," says JJ Smith, principal of CA Ventures. "We've created a building that meets the growing demand for attainable rental housing in the South Loop while enhancing the pedestrian experience by replacing a previously vacant site with a striking tower," says Keith Giles, principal of K Giles LLC. Lendlease is serving as general contractor for the development.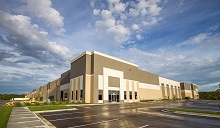 BELTON, MO—The Belton City Council has approved NorthPoint Development's $105 million redevelopment plan for the former Southview Golf Course. The company plans to break ground later this year on Southview Commerce Center, a 148-acre flex industrial campus just east of I-49 between 155th St. and 162nd St. "NorthPoint Development is one of the nation's leading developers of quality business parks, and the city looks forward to working with the NorthPoint team to bring new advanced manufacturing and logistics jobs to Belton," says Jeff Davis, Belton's Mayor. "The former Southview Golf Course has been vacant for more than a decade, and this business park will create new economic opportunities for the city and its residents." The center will have five state-of-the-art buildings ranging from 235,000 to 622,000 square feet, for a total footprint of more than two million square feet. NorthPoint will base the construction timeline on leasing activity, with facilities designed to accommodate light manufacturing, warehouse and distribution space.
DEALTRACKER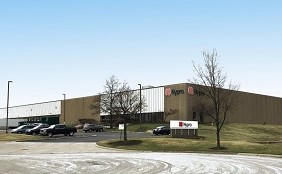 ITASCA, IL—Minneapolis-based United Business Mail has signed a 203,000-square-foot full facility lease at 801 Bryn Mawr in Itasca, IL – a more than 148% increase in space for largest independent provider of Standard Commingle Services in the US. Colliers International I Chicago's Steve Kohn represented the company in the transaction. UBM has grown a great deal in the past five years. In 2013 the mail sorting company moved into 42,000 square feet in Northlake. Three years later, UBM purchased an 82,000-square-foot building 1001 Foster in Bensenville. Today that property is under contract to an undisclosed buyer. The new Itasca property will serve as UBM's Midwest hub. It features 24' ceiling height, 15 exterior docks, one drive-in door and 6,100 square feet of office space. "UBM's business is a very unique – one of a kind really – and demand for its service is growing exponentially throughout the US," says Kohn. "With this lease it's not only better positioned for additional growth, but also able to better serve its core customer base."
BUILDING BLOCKS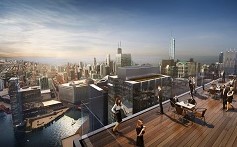 CHICAGO—The Howard Hughes Corp. and Riverside Investment & Development, along with Mayor Rahm Emanuel, Alderman Brendan Reilly, Commissioner David Reifman, and Paul Lambert, Chicago president of Bank of America, along with other stakeholders, gathered yesterday to break ground on 110 North Wacker, the trophy-class office tower set along the Chicago River in the heart of Chicago's Central Business district. The groundbreaking marks an important milestone in the next stage of development of the 1.4 million square-foot, 55-story premier downtown building. The developers have partnered with the leasing, design and construction teams of CBRE, Goettsch Partners and Clark Construction. "Located on arguably the best remaining office site in the city, the building will offer an exceptional design with dynamic public space and will soon leave its mark on the iconic Chicago skyline," says David R. Weinreb, chief executive officer of Howard Hughes Corp. It is already more than 30% pre-leased to Bank of America, and Lincoln International took 60,000 square feet. The building is expected to be completed by late 2020.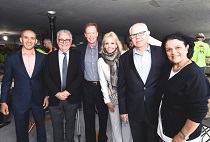 CHICAGO—Earlier this month, F&F Realty Ltd. and Fifield Realty Corp. celebrated the topping off for 727 West Madison, a new 45-story, 492-unit luxury rental tower in Chicago's West Loop neighborhood. At just under 500 feet, the elliptical-shaped glass high-rise, designed by FitzGerald Associates Architects with Lendlease as general contractor, will be the tallest building west of the Kennedy Expressway upon its completion. "We're proud to have reached this milestone on 727 West Madison, a beautiful new gateway to the dynamic West Loop neighborhood," says David Friedman, president of F&F Realty, owner and co-developer of 727 W. Madison. "We've worked with FitzGerald and Fifield to make the tower a striking addition to the skyline and a great place to live. Our residents will enjoy sweeping city views and best-in-class amenities and services, all within blocks of popular retailers, restaurants, nightlife and public transportation."
STICKNEY, IL—Timber Hill Group, a private equity firm specializing in the acquisition and development of logistics related industrial real estate, has completed a six-month, $2.8 million redevelopment of a cross-dock and maintenance facility located at 5000 W. 39thSt. in Stickney, IL. Simultaneously, Delta Logistics, Inc., which signed a full facility lease earlier this year, has relocated to the modernized property. "The trucking industry has recognized renewed demand for well-located cross dock facilities, truck repair bays and truck parking spaces," says Cary Goldman, Timber Hill managing partner. "These facilities are especially in demand by companies that require access to rail intermodal and highway systems." The terminal building is a 25,000-square-foot cross dock facility and the maintenance facility is 13,000 square feet with twelve drive-in doors. Timber Hill acquired the property in early 2017, and, in November, launched the renovation campaign. The new location now serves as the Portland, OR-based Delta's company's Midwest headquarters.