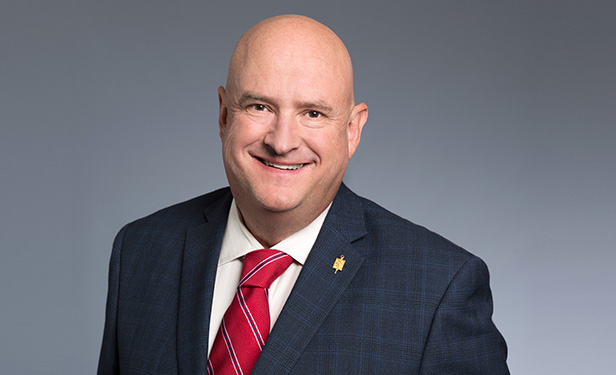 CHICAGO–It's certainly been a whirlwind year for Donald B. Wilkerson, CPM. Talk with him about his tenure as president of the Institute of Real Estate Management (IREM), and you're likely to hear a lot about connections. You'll also hear the words "excitement" and "evolution." Outreach on all fronts, says Wilkerson, form the seeds of growth.
For that reason, it's been a whirlwind year for IREM itself, as the group continues to build on an aggressive global growth strategy and, on the homefront, a more robust legislative platform. So it should come as no surprise that IREM's Global Summit, slated for Hollywood, FL, at the end of next month, is themed "Connections," reflecting the growth that characterized 2018. Despite all the activity, Wilkerson, who is also president and CEO of Gaston and Wilkerson Management in Reno, NV, sat down with GlobeSt.com to chat about growth to date.
An early win this year, he says, was the Commercial Summit the group held in Manhattan in March. "We continue to explore a further understanding of the relative roles of asset and property managers," he said. "While these are two very different disciplines, there are distinct areas of overlap where growth opportunities reside for our members.
"The Commercial Summit brought some two dozen asset managers and property managers together in an intimate yet open setting," he continued, "to engage in frank dialogue and reinforce the connection between them. This linkage is important to both groups. Asset managers want their properties to be strong performers. Property managers want to serve their clients, and they can better serve them by putting themselves in the asset manager's seat and thinking about creative ways to improve the financial performance of the assets under their care."
Hands Across the Water
Bridges between asset and property management weren't the only connections that were made this year, and Wilkerson noted the inroads the group is making on foreign soil. "This year continues to see growth in the international sphere," he said, "thanks to the work of our strong local chapters and licensees outside the US."
Nowhere is that more evident than in Asia. "Canada is our strongest foreign market," he told GlobeSt.com. "But Japan is closing in. It's a juggernaut, with 85 new members signed this year alone. Asian cultures value our ethical proposition, which is what IREM was built on."
IREM's chapter in China, based in Shanghai, also is predicting IREM will swear-in close to seventy new CPM Members this year. IREM's existing program in South Korea and a new program in Taiwan, "where we are now signing a new licensing agreement," similarly are growth hotspots for the association.
Outside of Asia, Wilkerson reported that members resulting from IREM's new program in South Africa have recently submitted an application to open a chapter in Johannesburg where, he noted, "the amount of building taking place is creating strong demand for property management expertise." This will be IREM's 16th international chapter.
The Legislative Agenda
This is the first full year of IREM's strategy to attack legislative issues by having members meet with their federal legislators at their local office, with the added support of a Congressional Briefing in Washington, DC. Together, said Wilkerson, they form a sort of one/two punch of messaging important industry issues before legislators.
"On a local level, we've found we have the opportunity for longer meeting times, due to legislators being on their home turf," he explained. "In addition, the In-District program grew by 37% this year. I look forward to additional member participation and therefore more impact next year."
The briefing was designed to "communicate our issues and maintain relationships with federal legislators," said Wilkerson, who reported that the inaugural briefing attracted more than 60 legislative staff members.
Two of the primary causes brought before those staffers concerned "drive-by" lawsuits and the need for deeper, broader flood-insurance coverage. In terms of the lawsuits, "We support the Americans with Disabilities Act," said Wilkerson, "and we're committed to providing and encouraging equal opportunity to all people. However, onerous drive-by lawsuits motivated by financial compensation are delaying changes that could provide real access." As a result, IREM supports "notice-and-cure" legislation that "would allow business owners the opportunity to rectify a violation within a reasonable amount of time before being threatened with a costly lawsuit or a demand letter."
In terms of a National Flood Insurance Program: "Although we appreciate that Congress has extended the program through November 30 of this year, we continue to advocate with our coalition partners on a long-term reform and reauthorization bill for NFIP," said Wilkerson. "Provisions in a long-term reform bill should include reauthorization for at least five years; an increase in affordability through annual rate caps and lower surcharges; directing FEMA to develop more granular rate tables that better align rates with actual risk; funding of loans and grants to help mitigate flood risk; and increased access to private-market flood insurance."
No matter the issue, he said, IREM's focus is on the good of its members, rather than on partisanship. "The climate in DC today is highly partisan," he stated, "which can make advocating for any issue difficult. However, IREM doesn't support legislators based on their political party or ideology, but solely on their support of property management issues; we support those who understand that a vibrant real estate market is achieved only when both residential and commercial markets are strong."
So, with such a beefy agenda for the year, what will be the major takeaways for attendees at the Global Summit? As the association as a whole continues to make connections on both a global scale and on the homefront, that theme will be evident at the Summit, a time to reflect on the accomplishments of the year past and continue planning for next year.
Then there are the educational sessions, offering "tools and resources our members can put into practice immediately," said the IREM president. Topics will include "trending industry issues like best practices in hospitality; diversity; a focus on millennials and technology; and disaster planning." (This last session moderated by the author of this article.)
Besides, much like Wilkerson's view of his tenure as president, "It's going to be an exciting time."