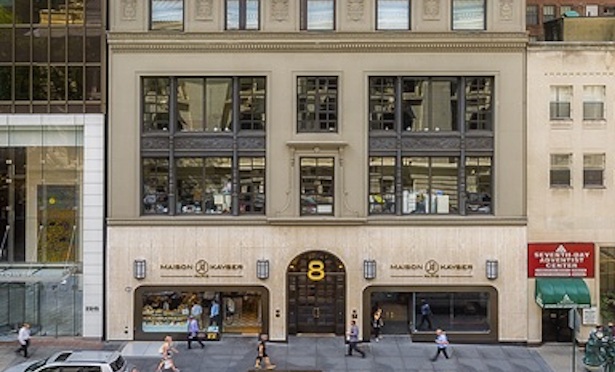 NEW YORK CITY—WeWork has signed a lease to occupy the entire second floor at 8 W. 40th St. The Jack Resnick & Sons' 22-story building in the Bryant Park District stands between Fifth and Sixth avenues. It was originally constructed in 1916 according to Real Capital Analytics.
The 6,667 square-foot lease brings the 162,658 square-foot building to 100% occupancy. The new space has high ceilings, new oversized windows and views of Bryant Park and the New York Public Library.
WeWork leases approximately 4.6 million square feet of office space in New York City, exceeded only by JPMorgan Chase, which leases 5.2 million square feet, according to a Cushman & Wakefield report.
The brokerage's publication "Co-working and Flexible Office Space" published last week notes nationally more than 5 million square feet of new co-working has come online in each of the past three years. It further points out that New York City has significantly more co-working space than any other market, with approximately 12 million square feet as of July 1, 2018, of which 10.7 million square feet are in Manhattan. Yet still, in Manhattan, co-working space amounts to less than 3% of the total office space.
This is the second lease that the collaborative workspace provider has agreed to with the Resnick company. Just a couple of weeks ago, WeWork signed a 69,679 square-foot lease for seven floors at 880 Third Ave. in Midtown East.
"We are excited by the opportunity to grow our relationship with WeWork," says Jonathan Resnick, president of Jack Resnick & Sons. He says the tenant's decision was based on the quality of the building, its location and the quality of the asset management and building services.
Originally designed by Starrett & Van Vleck and acquired by Resnick & Sons in 1962, the building contains a two-story lobby with a concierge desk, visitor access, a security system and new elevators. Other building tenants include Marchon Eyewear, Vision Service Plan, Panthera Corp., the Altman Foundation, Jack Victor Limited, Hand Baldachin & Associates LLP, Middlegate Securities, Hakimian Management Corp., Fashion Group International and Joseph Ratner Co.
Resnick & Sons was represented in-house by Brett Greenberg and Fran Delgorio. Arash Gohari and Chris Grimaldi represented WeWork.