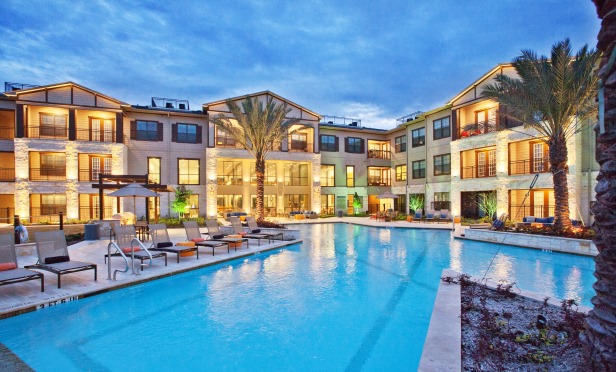 HOUSTON—With a slowdown in apartment deliveries during the last year as part of the recovery from Hurricane Harvey, the average occupancy rate elevated amid sustained rental demand in the Houston metropolitan area as of the second quarter. After apartment inventory grew 2.8% annually since mid-2016, inventory expanded 0.9% in the last four quarters, according to a recent report by Berkadia.
A recent sale bears that out. Alexan Auburn Lakes, a 346-unit multifamily community located a short distance from The Woodlands, was purchased by Olympus Property, a Fort Worth-based multifamily investment and property management organization with 17,000 units across 10 states. The purchase price was undisclosed.
Berkadia arranged the sale and financing. Senior managing director Ryan Epstein, director Jennifer Ray, associate director Wes Breeding and associate Scott Bray of Berkadia's Houston office represented the seller, Trammell Crow Residential and Prime Property Investors. Senior managing director Tucker Knight and director Nick Murphy of Berkadia's Houston office secured the financing on behalf of the buyer.
"With continued interest from a variety of investors, Houston's multifamily market remains competitive, even for newly built properties such as this one," said Epstein. "Solid fundamentals that are consolidated within the Spring area of Houston made this property especially attractive, and consistent growth in the surrounding area will also enhance the standard of living for residents of this community."
Built in 2015, Alexan Auburn Lakes is located at 6000 West Rayford Rd. One-, two- and three-bedroom units offer granite countertops, stainless steel appliances, USB ports, keyless entry system, island kitchens and built-in Bluetooth speaker systems. Community amenities include two pools with courtyards, dog park and grooming room, and reflection lake and running trail.
The community is located near 21 million square feet of office, research, institutional and industrial space. High-paying employment campuses include Chevron Phillips Chemical, Maersk Line, Halliburton, CHI St. Luke's Health and Texas Children's Hospital. Additionally, the fast-growing Springwoods Village is less than 4 miles southeast, which is home to HP's new campus and the new Exxon Mobil campus.
"The Spring/Woodlands submarket is showing some of the best rent growth in the city, and Alexan Auburn Lakes is in a great location to capitalize on this growth," Epstein tells GlobeSt.com. "Being this close to not only The Woodlands, but Exxon Mobile's new campus makes it a unique acquisition opportunity that Olympus will capitalize on over the long term."
Apartment inventory growth was highest in the downtown submarket, expanding 9.3% annually to 5,952 total units by the second quarter of 2018, says Berkadia. Even with the rise in inventory around the metro's central business district, leasing activity exceeded deliveries as downtown occupancy reached 78.5% in June 2018, up from 63.2% one year prior.
Helping drive demand in the area was United Airlines Inc. moving 1,400 employees into its new downtown Houston office during the first quarter of 2018. The submarket trend was reflected in the metro as Greater Houston average occupancy elevated 100 basis points year-over-year to 89.9% in mid-2018. With occupancy rising, apartment operators increased rent 5% during the last year to $1,031 in June 2018. In the downtown submarket, rent increased 0.6% annually to a metro-high $2,031 by the end of the second quarter, according to Berkadia.