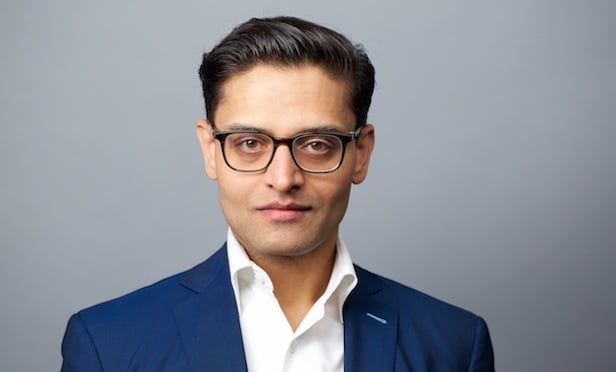 NEW YORK CITY—The Rudin Management Company promoted Neil Gupta to chief investment officer. He will manage all new investments, acquisitions and financial assets for the Rudin real estate portfolio. This includes 36 properties comprising 15 million square feet of commercial and residential space in New York City. He will also help direct Rudin Ventures, which invests in real estate technology companies.
Gupta joined Rudin as SVP in 2012. He worked on the acquisition and development of large scale offices, residential rentals, condominiums and mixed-use properties. Gupta has experience in stabilized, redevelopment and development assets, debt and equity capital arranging, and in structuring and executing joint ventures and partnerships.
Bill and Eric Rudin, co-chairmen of Rudin Management Company, the operating arm of Rudin Family Holdings, say Gupta was instrumental in many of the firm's most important initiatives. This includes Dock 72 at the Brooklyn Navy Yard, a joint venture with Boston Properties and WeWork that's scheduled to open later this year.
Gupta was also involved with the development of the Greenwich Lane, the massive, 200-unit, five-building luxury condominium at 155 W. 11th St. The project, which takes up the full block between W. 11th and W. 12th streets spanning Sixth and Seventh avenues, replaced the shuttered St. Vincent's Hospital complex. The development was met with strong, extensive local opposition. Community activists protested its being out-of-scale with neighborhood residential housing, increasing congestion, and towering over apartments on adjacent blocks.
An Oct. 25, 2013 article in The New York Times explained that when the hospital was undergoing financial troubles, the Rudins provided a $55 million loan secured with one of St. Vincent's buildings at 130 W. 12th St. When St. Vincent's filed for bankruptcy in April 2010, the Rudins took possession of the building and converted it to a 42-unit condominium. The paper reported that the next year, the Rudins paid $260 million to acquire the entire hospital complex in bankruptcy court.
In the article, the Rudins noted that they contributed $1 million for a local arts program, $1 million to a non-profit that advocates for affordable housing, donated the O'Toole Building valued at $50 million plus $10 million to help create Northwell Health's community healthcare facility.
The New York Times quoted Greenwich Village Society for Historic Preservation executive director Andrew Berman who opined that the condos would make the Village wealthier and more homogeneous, questioning their effects on the community.
In February 2017, Curbed listed the Greenwich Lane as the best-selling development in New York in 2016, according to PropertyShark calculations. The Real Deal reported that in February 2015 Howard Schultz, who was the CEO of Starbucks at that time, went into contract for the Greenwich Lane's south penthouse for $40 million at $7,159 per square foot.
Prior to his work at Rudin, Gupta was with Deutsche Bank's real estate investment banking group. He specialized in arranging, structuring and executing over $16 billion of transactions for real estate companies, domestically and internationally.
Gupta graduated from the University of Chicago with honors in economics and holds an MBA in real estate and finance from the Wharton School at the University of Pennsylvania. His LinkedIn profile lists fluency or proficiency in six languages: English, French, Hindi, Italian, Punjabi and Urdu.