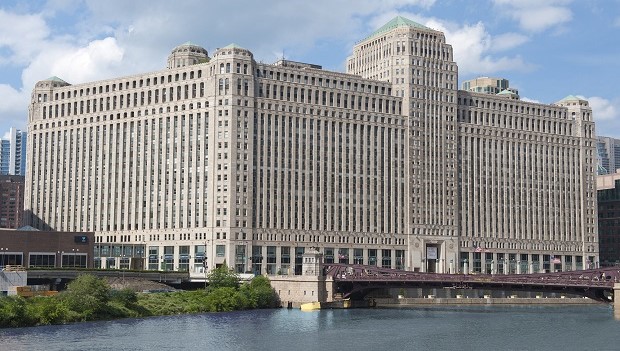 CHICAGO—Technology has fueled office markets across the US for several years, and that growth has benefited both long-established tech markets like New York and newcomers such as Detroit. And according to CBRE's new Tech-30 report, which measures the tech industry's impact on office rents in 30 leading tech markets, companies based in the top four tech markets—the San Francisco Bay Area, Seattle, Boston and New York—have started expanding into new markets, creating more demand for office space and driving rent growth.
Together, these firms have taken more than 25 million square feet of space outside their home markets in just the past five years. San Francisco-area firms led the expansion, accounting for 18 million square feet. Nine of the top 10 beneficiary markets saw rent growth that exceeded the US average of 5.6% over the past two years.
Chicago received 1.7 million square feet of such inbound migration, second only to Austin, which received 2.5 million square feet from the four leading regions. But such infusions, while significant, don't tell the whole story.
"There has been a lot of organic growth in Chicago's tech ecosystem," Brad Serot, a Chicago-based executive vice president with CBRE, tells GlobeSt.com. The cost of living, for example, has made it quite attractive for tech firms, no matter where they originate from, and the real estate can cost 50% less. That has helped make tech "the fastest growing office segment in the Chicago office market over the past four or five years."
But the need to recruit and retain qualified workers is paramount, Serot adds. And the big four tech regions are tapped out. "Tech firms have no choice but to look to other cities." Austin has the world-renowned University of Texas, and the Chicago region has a set of highly-regarded schools, including Northwestern University, the University of Chicago, the University of Illinois, and many others, and all feed their graduates into growing labor pools. "There is a lot going on that makes sense for the Google's of the world."
Chicago has also become a far more attractive place to live. New and sparkling residential towers have risen in new neighborhoods such as West Loop and South Loop, all of which provide the kind of urban lifestyle most favored by millennials. And the affluent suburbs on the North Shore can provide homes to the older executives with families.
Each city in the US has unique aspects, and those qualities govern where firms decide to expand, according to Colin Yasukochi, director of research and analysis for CBRE in the San Francisco Bay Area. "By expanding into other markets, these tech firms can tap into new and potentially lucrative business opportunities clustered in other markets, such as media and entertainment in Los Angeles or machine learning and cyber security in Washington, DC."
"We expect large tech companies to continue to expand outside their headquarters markets," he adds, "including further into secondary and even tertiary markets—particularly as space availability in top tech submarkets continues to tighten, driving rents up. Large tech company expansion into smaller markets will help foster innovation clusters, further boosting job creation and creating additional office demand."