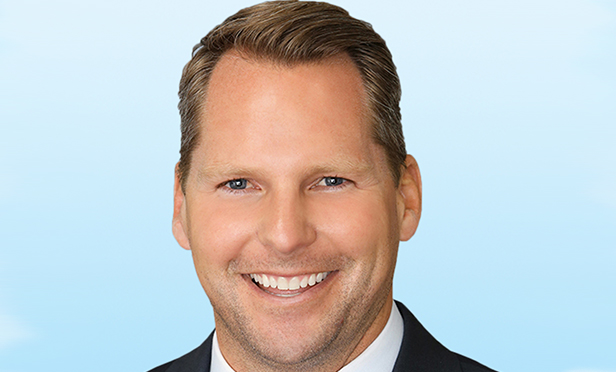 LOS ANGELES—With the continued top priority of growing its Southern California business, Cody Cannon recently joined Colliers International Group Inc. as executive managing director and market leader in the Greater Los Angeles region. Cannon will lead the Colliers team in this gateway region and advise investors, landlords and corporate users across the full spectrum of commercial real estate services.
In this exclusive, Cannon recently shared his insights into the region, outlook for the year and reasons behind his move to Colliers.
GlobeSt.com: What trends are you seeing in the Greater Los Angeles market as we begin the year?
Cannon: The Greater Los Angeles commercial real estate market has several really interesting trends worth following in 2019, across all product types. Some are the continuation of what might have been pegged as mere blips on the radar in previous years, but have so far stayed the course. Others we've gotten pretty used to by now and can only assume what was once a trend is now the new normal.
In the office market, for example, it's been great to see strong interest and demand from new media and technology companies such as Amazon, Apple, Facebook, Google, Honey, Netflix, Spotify, etc. Their clear imperative to be in the Los Angeles market—from Downtown to Hollywood to the Westside—has gone a long way to squash concerns some may have had about bringing speculative office space to market in recent quarters. Meanwhile, the continued push by coworking operators to expand in the area will be another impactful trend to watch. The narrative surrounding coworking space seems to have shifted away from the idea that these spaces only serve as a convenient playground for startups in favor of the notion that coworking space may well serve as a viable real estate solution for more established companies that need space but do not necessarily want to deal with the obligations of a traditional lease.
The industrial market has plenty to watch as well. That landscape continues to be dominated by the e-commerce business, with huge emphasis on last-mile distribution as more and more retailers aim to compete with Amazon. We really don't see the so-called Amazon effect going away anytime soon, as more retailers adopt an omnichannel sales approach to reach their customers. We are also eager to see the impact of ongoing changes to the tax code, specifically the implementation of Opportunity Zones, as they play out in our local markets during the next few years. Many of the areas earmarked by this initiative happen to include infill industrial markets around the city's central core, where space is already some of the tightest and most sought-after in the nation.
GlobeSt.com: What CRE observations might be surprising to note for those in other parts of the country?
Cannon: Probably one of the most misunderstood things about the commercial real estate market in Greater Los Angeles is its sheer size. The area is massive, not only in terms of square miles, but in volume of commercial product. Los Angeles is second only to Manhattan in the nation for office space, only rather than having one big central business district, Los Angeles has "mini" CBDs dotted across the landscape, each with its own unique trends to consider.
Meanwhile, we are also home to the single largest industrial market in the country. The twin ports of Los Angeles and Long Beach are major economic contributors, driving more manufacturing in the Southern California region than anywhere else in the United States. Due to these factors, Los Angeles must contend with rental rates that far outpace those for commercial space across the vast majority of the nation, whether office or industrial.
GlobeSt.com: What is your outlook for the region as the year unfolds?
Cannon: This coming year looks promising for Los Angeles. In the office market, it appears we will still have room to run before the market truly softens. Though rental growth for office space has begun to slow somewhat, it continues to trend positively. The industrial market, too, will almost certainly have a good year. Despite the background noise of issues such as ongoing trade disputes, fluctuations in capital markets and uncertainty related to the government shutdown, Los Angeles industrial markets continue to see record low vacancy and record high asking rates.
GlobeSt.com: Please share some insights into joining Colliers.
Cannon: Colliers is a top-tier global commercial real estate services and investment management firm that has consistently been a market leader across all property types. I was and am attracted to the full range of services developed and adapted for decades to meet and serve the needs of our expanding client base. The prospect of partnering with so many dynamic professionals, while being supported by exceptional regional and global leadership, made the decision easy.
As executive managing director, I have been charged with the responsibility of ensuring we are the market leader across the CRE space in the Greater Los Angeles region. By retaining and recruiting top talent and ensuring our clients have access to the highest caliber of customizable research information and innovative technologies, we will continue to build upon the highly esteemed Colliers brand. Also, we will continue to build upon the legacy industrial business that Colliers has long established in the region, and significantly grow our market share across the full range of all property segments, from office and retail to multifamily and hospitality.
GlobeSt.com: What growth/market share plans do you have in place for the near term and longer-term period?
Cannon: Long before I joined Colliers, the firm had established an ambitious initiative to double the size of the company in just five years. Such a challenge—indeed such an opportunity—was part of what attracted me to the firm in the first place. In Los Angeles, our commitment to growth will come from two fronts. On one side, we continue to ensure we are providing our dedicated professionals with the right resources, tools and support they need to effectively grow their business. On the other side, we are actively working to recruit top talent in the region, with an eye toward those who value collaboration. It's important that our brokers work together, not only with support teams we already have in place here in Greater Los Angeles, but with each other to increase our market share in areas where we could use a boost. Ultimately, we know that when our brokers collaborate to make things happen, we all benefit and grow collectively.