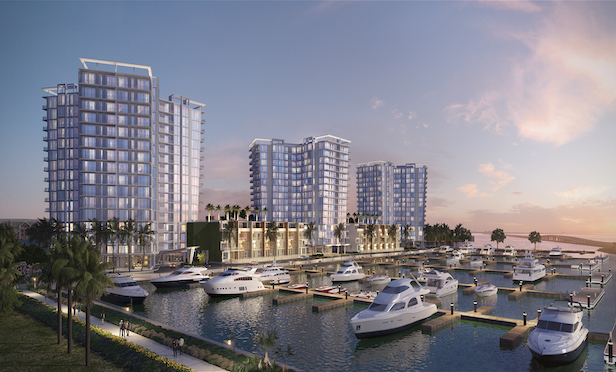 TAMPA, FL—Fort Lauderdale-based real estate development and land investment firm BTI Partners has started site work construction on its luxury condominium Marina Pointe project here.
BTI Partners has launched construction on its 150-slip deep water marina that will be part of the 52-acre mixed-use community in the Westshore Marina District in Tampa.
Once completed, Marina Pointe will consist of three luxury condominium towers designed to transform South Tampa's urban living. Marina Pointe's first tower will include 113 luxury condominiums and seven townhomes with views overlooking Tampa Bay and the St. Petersburg skyline. The first tower is projected to be delivered in the fourth quarter of 2021.
"We are excited to share that site construction has begun at Marina Pointe and Westshore Marina," says Brian Van Slyke, BTI Partners' EVP of Florida's West Coast. "This project is one-of-a-kind in Tampa Bay and in the state's West Coast market, thanks to our unparalleled location, walkability, waterfront living and views. Marina Pointe provides a unique luxury waterfront lifestyle with direct access to boating services, boutique shopping and dining and high-end retail."
The luxury waterfront condominiums, designed by architect Kobi Kar, feature expansive open-living areas with floor-to-ceiling windows, deep terraces, and verandas offering panoramic sunrise and sunset views from nearly every residence.
The project's full-service marina will be on a 13-acre deep-water basin and will accommodate vessels from 40 to more than 100 feet in length and provide owners with available concierge boat services including a dock-master, detailing and maintenance, professional boat charters, and more.
The walkable community is located at the intersection of Gandy and South West Shore boulevards, which is located near the downtowns of both Tampa and St. Petersburg.
"From the beginning, we had a vision to build a vibrant mixed-use waterfront and marina community that had practical live-work-play elements," says Noah Breakstone, CEO of BTI Partners. "As we commence construction of Marina Pointe, our vision becomes a tangible reality. We are excited that Westshore Marina District is moving closer to creating a real sense of place for Marina Pointe owners."