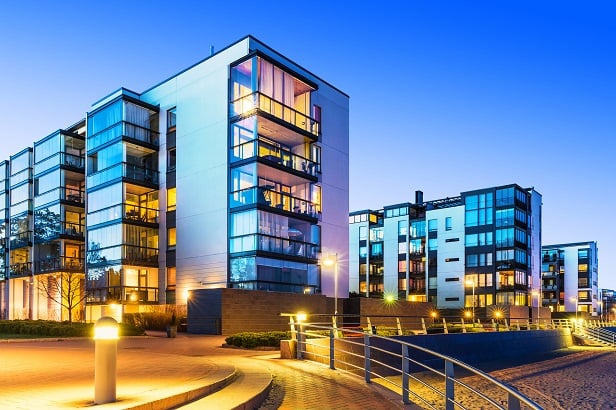 In its debut rent tracker report, the National Multifamily Housing Council reported that 69% of households had paid their rent, either partially or in full, by April 5, compared to 81% that had paid by March 5, 2020. The rent tracker is based on data from 13.4 million rental apartments. The association has partnered with several firms to create this metric, including RealPage, Yardi and Entrata.
This increase in nonpayment comes as little surprise given the millions of people thrown out of work over the past month. With more layoffs and furloughs expected, the metric provides some insight into how the unfolding coronavirus crisis might affect the apartment industry on a wider scale.
First of all, a caveat: the NMHC notes that technical issues could make the historical comparisons imprecise. These include varying days of the week on which data are collected, companies' differing payment collection policies and residents' ability to deliver payments to the office or by mail due to the shelter-in-place orders and the closure of leasing offices.
For these reasons, it is likely that the comparison of missed rent payments is less than the headline number, "but for consistency's sake we reported the headline number," says Jeffrey Adler, vice president of Yardi Matrix.
It is also important to note that the tracker just captured the first week of the month and that more tenants could be paying their rent late. Also, "we are starting to see a lot of operators providing payment plans and we are just now seeing those enter the system," says Greg Willett, chief economist of RealPage. "They are now trickling in and we think we will see a significant lift next week."
These payment plans should provide relief to both tenants and landlords, provided that the economy returns to normalcy relatively quickly, he adds. "If not, there will be other problems to be solved. We will be keeping an eye on that on how it plays with renewals."
This initial reading did not provide much insight into any geographic differences—payment numbers are down everywhere—but there were a few outliers, Willett notes, namely in New York and Louisiana where the pandemic has hit hard.
The biggest decline registered in Class C product, than in the top or middle of the market. Residents in these properties, of course, are the people most likely to have lost jobs.
That said, Willett is holding out hope that by the end of the month, the payment rate will have improved considerably as unemployment support kicks in. The real tell will be what happens in May as job losses increase, he says.
"We have to be careful about the interpretation of these results," Doug Bibby, president of NMHC, says. "I think we will see over the subsequent weeks that these numbers will get better."
Separately, BMO Capital Markets is modelling a 75 bps occupancy and 200 bps rent loss per quarter through the end of the year for the apartment REIT sector. According to data it analyzed from Costar, apartment rents in the top 20 markets owned by REITs fell 72 bps since March 1 to April 6, an 8.4% decline on an annualized basis, compared to the recent average of a 6.8% annualized increase. Vacancy increased 1.7% annualized, vs. a 40 bps typical seasonal decline. While this is a relatively small data set, analyst John P. Kim wrote, it represents a weak start to the seasonally busy spring leasing season.