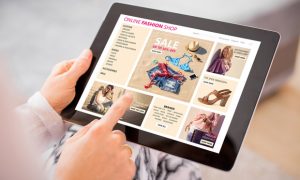 Saddled with losses from mass closures due to the coronavirus pandemic and corresponding social distancing guidelines, retail REITs are getting creative as they try to help drive sales for their tenants. New online initiatives, not surprisingly, have been a key strategy.
Lou Conforti, CEO and director of Washington Prime Group, assures customers that the pandemic will end soon. Still, in the meantime, it is offering a promotion to purchase products from its tenants.
Called Well Picked Goods, it is a weekly digital curation of merchandise from Washington's local, regional and national tenants.
"Pretty soon no more caressing your iPhone in order to imagine how soft that James Perse cashmere hoodie is or having your roommate catch you scratch and sniff your laptop just to experience the olfactory delights of Eleventh Candle Co.," Conforti says in prepared remarks, "or your partner completely disgusted because he has to disinfect the iPad after you saw an image of an Auntie Anne's' cinnamon Sugar Pretzel and licked the screen."
Well Picked Goods is a weekly digital curation of merchandise. It has offerings from Washington's local, regional and national tenants, according to the press release.
PREIT has a similar offering. It has launched "Shop Local," which is a page on all of its mall websites.
"As we think about getting back to business, the SBA loans are running out, with all the things retailers are challenged by right now given that brick and mortar format is not useable, we thought about our smaller business retailers and the fact that they don't have the reach that the larger retailers do from the marketing standpoint," Heather Crowell, executive vice-president of strategy and communications at PREIT, tells GlobeSt.com. "So we start thinking about how we can support through our digital channels, are retail channels, our website, social media platforms."
Originally, PREIT planned to highlight the businesses in each market. Then, it decided that the program would be more effective if a person shopping in New Jersey could learn about small businesses in its portfolio in North Carolina.
PREIT is unable to track the individual sales goals from each business in their portfolio that is highlighted on the Shop Local page. It plans to assess the success of the initiative through feedback from the stores, Crowell says.
"Our goal is to hear from these retailers that they started receiving orders. It is important that the retailers and the landlords do what we can to support each other so we can be better on the other side of this."
As for Washington Prime, it is offering deals for online sales that reward customers by giving them money from each sale to use at one of its tenants' stores when it is safe to shop at their malls again. Polaris Fashion was last week. This week it is The Outlet Collection in Seattle.
"So, if our guests spend $100 online (kinda pains me to say this) at any of the featured local and national partners of ours, from April 10 through April 17," Conforti said, "we'll give you a $25 gift card to use when it's safe to visit Polaris Fashion Place once again."