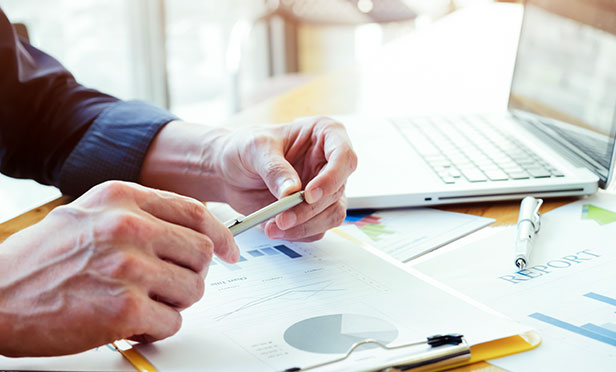 In the last several months, our country has seen unprecedented changes in the economy and staggering unemployment rates due to business shutdowns across several sectors. Consequently, many lenders are working with businesses to keep them operational including payroll protection loans and providing payment relief options such as forbearance. According to a recent GlobeSt.com article (4/21/20), there has been an unprecedented surge in requests for payment relief on commercial mortgage-backed securities, an early sign of a pandemic-induced real estate crisis. Additionally, many lenders estimate that up to 50% of loans are in some type of forbearance or deferred payment situation. Based on the estimated volume of loans with some type of modification, the time will soon come when payment relief and loan accommodations will come to a halt and distressed assets will be in danger of foreclosure. An increased frequency of foreclosures in the upcoming months is a reality that many lenders will have to face head on.
When the foreclosure process begins and reality sets in that a distressed asset may soon become a bank-owned asset, the due diligence process begins to look a bit different. In addition to the headache of dealing with a failed loan, having to deal with the property itself and becoming an owner of that property can prove an even bigger headache. Performing thorough due diligence at the pre-foreclosure stage is critical. In fact, the due diligence a lender completes at this stage should go above and beyond what was completed during the origination of the loan. What should this enhanced due diligence look like? The following paragraphs discuss what going above beyond looks like during the pre-foreclosure process.
Pre-Foreclosure Environmental Due Diligence
During origination, limited scope environmental reports such as desktop reviews or environmental transaction screens are often utilized to vet risk. While these tools can be appropriate for low risk property types and/or lower loan amounts or loan-to-value deals as a business decision-making tool, only a full Phase I ESA can vet the property for CERCLA liability protections. This means that if the lender intends to take title to a property – limited due diligence products will not provide CERCLA liability protection in the event contamination is found. Case in point, during the last recession, many lenders found themselves discovering environmental issues that were not discovered in the original limited scope environmental reports when completing more robust investigations (i.e. a full Phase I), which affected their foreclosure decision-making process greatly and also lead to losses.
In a recent CRE Finance World article, Partner performed a study on missed recognized environmental conditions (RECs) on transaction screen assessments (TSAs) that were conducted solely on multifamily properties. This study found that approximately 10% of TSA reports missed a REC that could result in environmental liabilities amounting to over $1 million in investigation, remediation, and regulatory oversight fees. The article also concluded that RECs that may not have been identified by the TSA due to a lack of sufficient information, occurred 60% of the time in the study. Multifamily properties exhibit the lowest risk of commercial real estate properties, as compared to commercial and industrial sites. Therefore, if a TSA or less rigorous environmental due diligence product was used for higher risk property types, the resulting environmental liabilities would likely be far higher, further highlighting the need for thorough and complete due diligence during the foreclosure process.
If any significant amount of time has passed since loan origination, conditions on the property (or surrounding properties) could have changed since the original due diligence was conducted. Properties that store or use hazardous materials that did not have any significant issues initially could have very costly issues when it comes time to foreclose. For example, a gas station with underground storage tanks that had no issues due to their age or condition at the time of assessment, may now have had a release causing soil or groundwater contamination, especially if the facility has sat vacant and has not been maintained. Another example is an industrial facility that used hazardous materials that were in compliance with regulations and did not conduct high risk operations in the past. At foreclosure, the lender is faced with quantifying the hazardous materials on-site and is now responsible for properly disposing of them, which can be costly. There is also the question of maintaining compliance with the operational permits this industrial facility may have had, like air permits, hazardous waste permits, wetlands and storm water permits.
In the hundreds of Phase I ESAs Partner has performed on pre-foreclosure properties on behalf of lender clients, it is not uncommon for the property to exhibit bad housekeeping conditions, or worse, the owner has purposefully created an issue by dumping hazardous materials on site. Disposal of hazardous waste, as well as universal waste like thermostats, fluorescent lightbulbs, and other common building materials can be costly. Materials left on site not only cause more work for the lender, it can impact the value of the property and may even cause a reputational risk.
Construction Considerations
Stalled construction due to lack of funds is one of the more unique challenges a lender can face during foreclosure. This especially comes into play when a developer has run out of funds to complete it. Sometimes these projects are anywhere from 50% to 90% complete and the lender needs to decide what costs are associated with taking over a project midway through. At this point a lender is essentially stepping into a developer's shoes. The solution to this problem is a tool called Cost to Complete to determine not only what it will cost to finish the projects to the original specs, but often times, they are asking for costs to demolish the half built project. This especially comes into play when a project has been sitting for so long that there are damages to the property such as mold growth from exposure to moisture, vandalism, and other damages due to neglect. For construction projects, it is key to have eyes on the property and methods to stabilize the property while it sits vacant to avoid further damage.
Another issue for project sites where only grading has occurred is erosion control, as storm water runoff can be a significant issue that can lead to civil and sometimes criminal liability. Understanding what is required and having Storm Water Pollution Prevention Plans (SWPPPs) and Best Management Practices (BMPs) in place is essential. Often it is best to contact local regulators who are overseeing the project to understand what is involved before considering foreclosure.
Property Condition Issues
Another issue lenders face is taking back a property that has been damaged, either by the owner or because it has sat vacant so long that it has been vandalized. Often the appraisal will alert the lender to such issues; however, in order to get more information on what immediate repairs and maintenance items will be needed on a property, lenders are hiring qualified engineering firms to produce a Property Condition Report.
Of utmost concern during pre-foreclosure Property Condition Assessments are life and safety issues. Once the lender becomes the owner, something as simple as a trip hazard becomes their liability. A Property Condition Report can help identify such issues.
As outlined in a recent GlobeSt article by my colleague Elizabeth Krol, the rapid vacancy orders of the recent COVID-19 pandemic caused additional building condition issues, while also causing mass commercial real estate vacancies throughout the United States. Many buildings were ordered closed with limited notice and without proper decommissioning of building systems. These abrupt closures created a great deal of uncertainty for property owners, including the physical and environmental conditions of their assets. Buildings that were not properly closed or decommissioned, may have issues like mold or other indoor air quality concerns. Although we still do not know the full impact to buildings due to rapid and mass vacancies, lenders should consider COVID risk mitigation in relation to their own liability before they take ownership such as complying with federal, state, and local directives as they become known. One way to mitigate this risk to is to complete a Facility Management Plan that may include checklists for regular building system inspections during the vacancy to ensure that there are no burst pipes, no leaking ASTs (above ground storage tanks) for emergency generators, no rodent issues, and that the HVAC system is set properly to control relative humidity.
Here is a summary of environmental, construction, compliance, and property condition factors to take into consideration when considering foreclosing on, or purchasing, a distressed asset.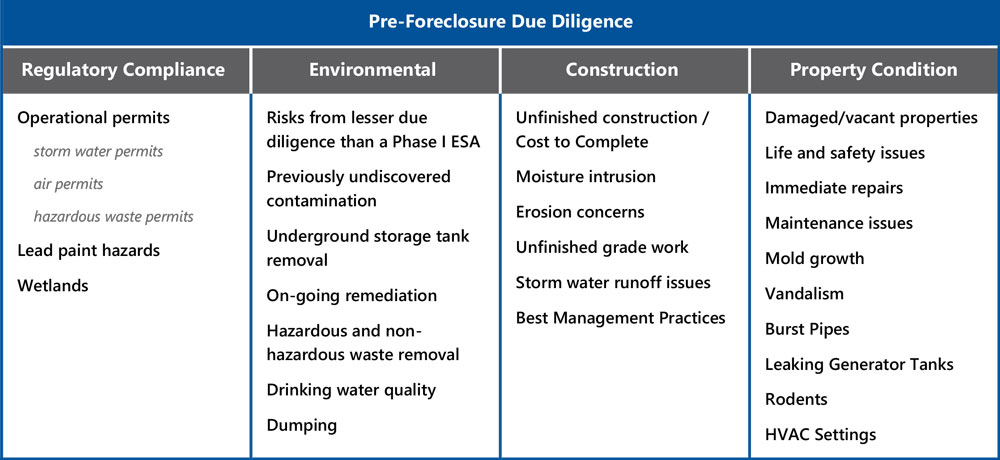 Each site is different, and this is not an exhaustive list of physical due diligence that should be done at foreclosure. Discussing these potential concerns up front with your consultant can help you take the right course of action.