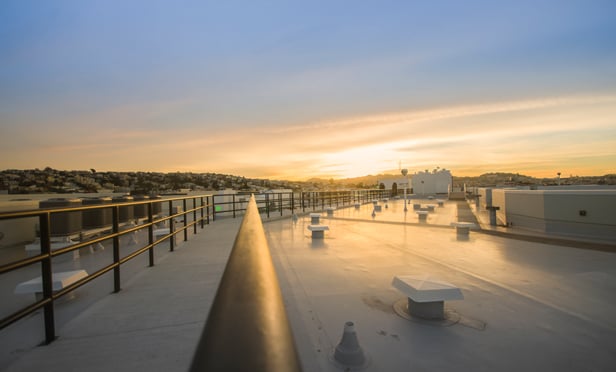 When it comes to commercial real estate assets, the most expensive system in your building is usually your roof. Particularly in industrial buildings today, million-dollar roofs are not uncommon. Exposed to the elements and rarely seen by occupants and owners, roofs are also highly vulnerable. Chances are, roof repair and replacement are among the largest expenses in your budget—so what are you doing to protect your roofs?
In our routine inspections of commercial roofs across the country, we see the same problems over and over. These five culprits are responsible for most of the damage and/or risk we see on commercial roofs and ignoring them is the quickest way to void your warranty, develop leaks, and shorten the life of your roof.
Mother Nature: Water and plant matter are a one-two punch to your roof. In a storm event, hundreds of gallons of water are pouring across your roof, and winds blow leaves and debris into your drains. Roofs are not designed to hold more than an inch or two of water, so proper drainage is essential. Even under normal circumstances, drains can become blocked with dirt and plant matter, particularly if you have trees near your building. Think about it: you pay someone to maintain your landscape and sweep your parking lots, but much of the debris that winds up on the ground hits the roof first. Who is keeping your roof free of debris, and your drains clear and functional?
Tenants: First, as a matter of safety, no one should have access to a roof if they haven't been trained and properly equipped to do so. Your roof access should be locked and strictly monitored. Even well-intentioned tenants can do damage when they try to "fix" something, because they and their contractors are not qualified to penetrate and properly seal your roof. We see improperly installed vents, cabling, equipment and more. These create leaks, fire hazards, and safety issues. Furthermore, if you have a triple-net tenant who is responsible for maintaining the roof, you should still be routinely inspecting and documenting its condition. Often, we find that tenants do not maintain roofs to the standard of the property owner, and certainly not to the level required by the roof warranty.
Contractors: HVAC, telecom, and other contractors are not roof contractors, and they may not give your roof the respect it deserves. Incorrectly attaching equipment, improperly sealing roof penetrations, failing to secure equipment covers and access openings, leaving debris behind: we see contractor-related damage frequently. Something as simple as dropping a screw and stepping on it can compromise your roof. Your best line of defense is limiting roof access to vetted and qualified contractors and inspecting their work promptly upon completion.
Rooftop Equipment: When we receive a leak call, our first step is to ask the tenant or occupant where the water is entering the building and trace that to its source. Much of the time, the leak is not from a deficiency in the roof, but from an HVAC unit, duct work, exhaust vent, or other rooftop equipment. If rooftop equipment is not properly installed, inspected, and maintained, it can become a path for water intrusion.
Negligence: By now, you may be noticing a theme: regular inspections are key. Inspections catch the problems described above before they become serious threats, and they also protect roof warranties. Your roof warranty contains specific requirements for inspection, maintenance, and documentation, without which the warranty is void. Beyond the health of the roof itself, there are fire, life, and safety concerns that can go unchecked if you neglect to regularly inspect your roofs.
If you own or manage a portfolio of roofs, keeping up with regular inspections, maintenance and documentation can be a challenge. Enrolling in a comprehensive roof management program will ensure that your inspections happen on time and are documented in manner that preserves your warranty coverage. It will provide regular maintenance as well. As part of your roof management program, you should receive annual capital budgets so you can plan for re-roofing as necessary. We find that most of the roofs in our roof management program exceed their expected life, sometimes by as much as five or ten years. By extending the life of your roof, a roof management program can pay for itself many times over. And, if you have net leases in place, it is possible to pass the cost of a roof management plan to your tenants as common area maintenance. With ROI like that, there is no reason not to have your buildings enrolled in a roof management plan.