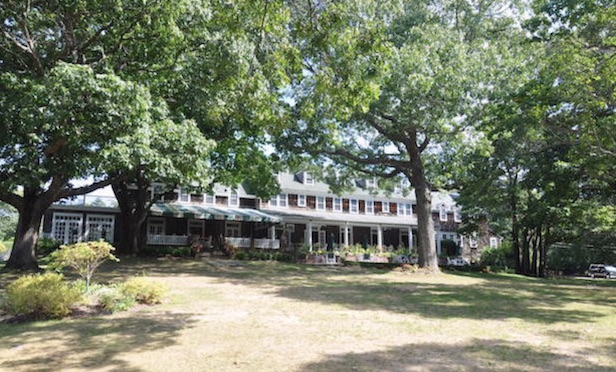 NEW YORK CITY—The Ram's Head Inn on Shelter Island is now up for sale, having reduced its asking price to $10.9 million from $11.9 million, the amount originally listed by Peter McCracken of the Corcoran Group in January 2017. Henri M. Kessler, an investment sales associate with Marcus & Millichap's national hospitality group, secured the new listing.
Kessler tells GlobeSt.com that the sellers, owners Linda and James Eklund of Reich/Eklund Construction, wanted to focus more on commercial brokerage beyond East Long Island, and specifically, those interested in investing in hospitality. Kessler says he emphasized that his group speaks with coast-to-coast buyers. He notes Marcus & Millichap's national hospitality group closed on $3.2 billion of assets in limited service hospitality transactions, since January 2014. Along with Kessler, his colleagues, VP of investments Jerry Swon, and senior associate broker Nelson Lee, are representing the sellers.
The Eklunds have owned and operated the inn for 37 years. Built in 1929, the three-story, 22-room hotel, which sits on 4.3 acres, has a rich past, vividly reflecting and being an integral part of history. Shortly after World War II, in 1947, a small group of 20 theoretical physicists including Julius Oppenheimer, Richard Feynman and Edward Teller met at the inn to achieve significant understandings of fundamental questions in quantum physics. In 1976, the family of New York State Governor Hugh Carey leased the inn. The next operator had used it as a disco with dancers wearing traditional German lederhosen.
Today, with 800 feet of private waterfront, a private dock and eight moorings, the Ram's Head Inn is known for its hotel accommodations and restaurant, and as a site for weddings, conferences, and other private events.