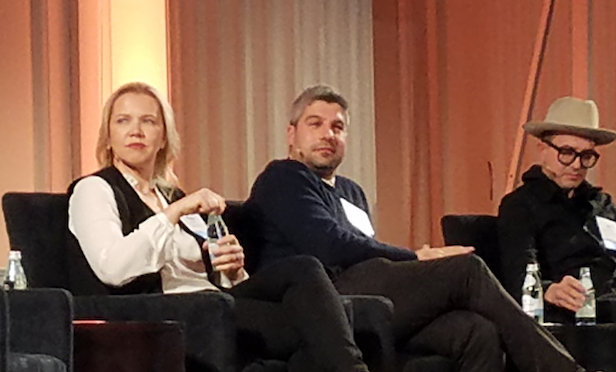 NEW YORK CITY—"The idea was to take a 33 square-foot dumpster, sell off everything I owned, including everything in my house for $1 an item and try to live in a very small space and make it kind of a fixer-upper," said Jeff Wilson, the founder and CEO of Kasita.
He ended up installing an air conditioner and a sliding roof "for those romantic evenings under the stars when you want to take in the atmosphere." He spoke with zoning officials, architects, and bank loan officers to "trick out the dumpster."
Wilson's one-year experiment not only proved to be an effective marketing tool but he claims it taught him benefits of living in micro-spaces. "I spent a lot more time outdoors, and as you can imagine the rent was reasonable."
Wilson considered housing from the efficiencies of the manufacturing industry instead of the construction world, thinking about designing a home like a product—instead of a house. He hired a product designer, who never designed a house or anything in the real estate industry, but had worked on creating structures of cars, bikes, wallets and chocolate bars. Wilson's request was, "I want you to design me a product that I can live in."
Now, the Austin-based company Kasita manufactures 374 square-foot stand-alone homes, and 408 square-foot community homes, which are stackable units used in the creation of modular apartment complexes. They are priced from $89,000 to $129,000.
Due to the small sizes and ease in placements, the company is also looking to install their housing in small, irregular lots. Kasita has identified at least 2,200 such lots as possibilities in Santa Monica, CA. In addition, they have been talking to the Federal Emergency Management Agency about housing solutions with the displacement of people due to wildfires, hurricanes, hailstorms and other natural disasters.
By exploring cracks in the system, Wilson says Kasita is rebuilding the way people think about the house and the home.
At the innovation session that was part of the real estate conference organized by the Goodwin law firm and Columbia Business School, Yulia Yaani, the founder and CEO of RealAtom, and Zach Aarons, the co-founder of MetaProp, also presented on how technology is reshaping the real estate industry.
Based in Arlington, VA, RealAtom is an online marketplace for commercial real estate debt financing.
"To finance a commercial building takes weeks, even months to find the right lender," said Yaani. "Lenders are overwhelmed with loan requests, processed through multiple emails. RealAtom matches you with relevant lenders in real time." She described the company as giving users the tools to cut down a 40-day process into two days, going through the loan process more efficiently.
Originally, people resisted tech innovations in commercial lending because they saw the industry as relationship-based and agency-driven. Plus, the $500 billion market seemed too complex for digital solutions, according to Yaani.
However, in 15 months, RealAtom created a community of 500 members including banks, life insurance companies and agency lenders. They processed over $700 million in loans, saving people time and money. After their last round of fund-raising, RealAtom closed on $2 million, and is now hiring additional staff.
"Technology is here to revolutionize commercial real estate lending," said Yaani. "This is just the beginning of a trend that will reengineer one of the largest industries in the US." She predicts the way business people and consumers borrow money will profoundly change in the next five years.
MetaProp sponsors real estate tech startups through its accelerator program and provides advisory services to established companies working to expand their use of real estate technology. Aarons noted his company has been tracking the rise in online lending for Fannie and Freddie residential mortgages. What becomes mainstream in residential, throughout the history of this business will trickle into the commercial side, he said.
As a seed investor of tech real estate companies, MetaProp reviews both real estate and tech companies. It advises on how to evaluate risk-return profiles, and how to understand the overlapping functions of service companies and tech companies.
Big ideas need someone from outside the industry said Aarons, tying into Kasita's impact on housing production. But he noted for functions such as organizing information online, a company like RealAtom is needed from inside the industry.
"Seeing the difference between fundamental disruption from the outside, then incremental disruption from within the inside–MetaProp looks for both," he said.