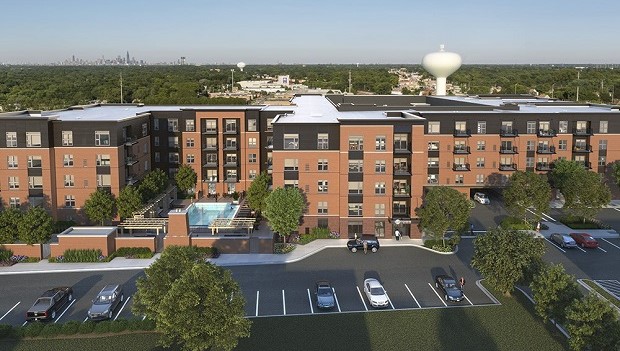 CHICAGO—Apartment developers throughout Chicagoland remain quite aggressive, and will complete about 8,300 new units by the end of the year, well above the 15-year average and just slightly less than 9,000 units built in 2016, according to a new market report from Marcus & Millichap.
And developers will probably maintain that robust pace into 2018, the firm believes, especially when it comes to luxury units around the urban core. All these completions, however, will put some upward pressure on vacancy rates. That in turn will lead landlords to begin making more concessions, particularly in the class A segment. But with business confidence and job openings at near all-time highs, strong rent growth should continue, even with the increase in vacancy.
"Businesses finally have the assurance to expand their footprints after years of tepid growth following the Great Recession," says William E. Hughes, senior vice president, Marcus & Millichap Capital Corp. "These conditions are allowing pent-up households to form, creating new apartment demand."
In 2017, deliveries will exceed demand and lift vacancy 50 bps to 5.1%. In 2016, vacancy rose 80 bps as 1,200 units were absorbed. The average effective rent will increase in 2017 to $1,434 per month, M&M says, outpacing last year's gain of 4.0%.
Average effective rent in the urban core reached $1,783 per month in June, up 6.6% year-over-year. Rent in the Loop jumped 7.2% during this time to $2,288 per month.
And although much of the new development and activity is in and around the city's CBD, the suburbs have not been left out. In fact, developers seem to have increased confidence in the suburbs. During the year ending in June, they finished about 4,000 suburban apartments, up from the 2,800 units delivered in the prior year, according to M&M. North Cook County received a significant portion of these completions.
That has led to a significant tightening in some areas. In particular, vacancy in North Cook County and the Lake County/Kenosha submarket plummeted more 150 bps during the last 12 months to below 3.5% in each area.
Healthy demand for suburban apartments raised the average rent 5.3% in the past year to $1,205 per month in the second quarter.
That has encouraged developers to increase the pace of construction in both submarkets, with the bulk of deliveries scheduled for completion in 2018.