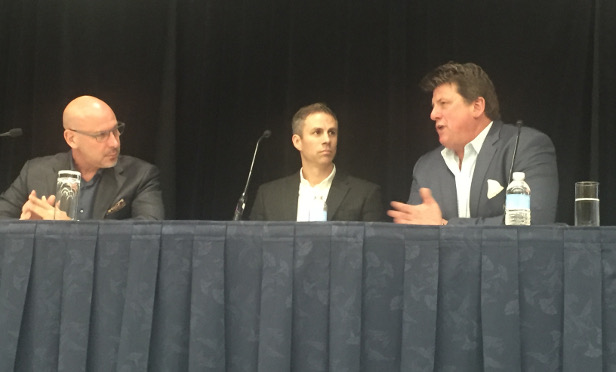 SAN DIEGO—Services like Airbnb, wework and Uber fill a need that traditional industries don't, but that doesn't mean they can't benefit from each other, said speakers at the panel session "Real Disruption—The Sharing Economy and Commercial Real Estate" during SIOR's Spring Conference here April 14. Each panelist was a pioneer in his respective commercial real estate niche, discovering an unmet need and creating a sharing-economy company that meets it.
Moderator Steve Weikal of MIT Center for Real Estate began the session by revealing that venture-capital investment in real estate technology—the basis of most sharing-economy businesses—soared to $1.7 billion globally in 2015. "Tech follows the money," he said. The technology available to make real estate decisions is growing exponentially, with roughly 400 companies in this category currently being tracked.
Weikal then went on to describe the sharing economy as a "collaborative consumption of resources." Airbnb, the largest hotel company in the world, doesn't own a room, and Uber, the largest taxi service in the world, doesn't own a car. He said MIT Professor Dennis Frenchman calls this type of sharing economy "real estate fracking." Meanwhile, companies like Breather, ZipCar and LiquidSpace hold leases and break them down to monetize them. Companies that use both techniques are on the rise in the sharing economy—from Clutter to Pipeline to PivotDesk, the latter of which utilizes empty desks/space within leased office space via monthly rentals to small companies and startups.
PivotDesk's founder, David Mandell, explained how his company came about and how it works. He says he recognized how much shadow space existed in the office-space sector—space that could be used by companies who don't want to commit to long leases. The service allows these firms to focus on growing their businesses rather than worrying about real estate, and it provides an income source for office tenants with extra space on their hands for one reason or another. Rather than going the sublease route—which can be fraught with headaches—both parties leave it to PivotDesk to work out the details.
The beauty of PivotDesk, for the commercial real estate world, is that it doesn't fight the traditional channels, said Mandell. "It's designed to work with brokers extensively. It's very simple, and it takes the concern about real estate out of running a business." And it frees brokers up from spending valuable time on one-off sublease deals.
Next, Matt Glade introduced attendees to Flexe, a space-sharing model for warehousing. Glade, a former commercial real estate broker, started the company "to serve short-term, overflow, seasonal-hit needs in real estate. We are the Airbnb for warehousing." Recognizing that the warehousing sector ebbs and flows at various times of the year, Flexe helps companies with extra warehouse space share it with companies who need it temporarily. It's "software-enabled sharing of underutilized warehouse capacity."
Glade says 75% of manufacturers surveyed reported that they have inventory fluctuations whereby they either have too much or too little capacity in their warehouse network. "They look at it as a drag on P&L." With 300-plus warehousing partners across 45-plus North American markets, Flexe is another example of a sharing business brokers can take advantage of to free up time while satisfying clients with space needs.
Lastly, Darin Anderson, founder of San Diego-based CyberTECH, explained what his firm does, which is basically to create places to incubate cybersecurity companies. These companies—of which San Diego has many, due to its high military presence—need a turnkey solution to their space requirements, and CyberTECH offers this by providing co-working space specifically designed for cybersecurity firms. Some of the amenities in the space include a gym, a kitchen, a relaxation room and a recording studio, along with a six-month to two-year lease. "Low-operations-cost, efficient space is what these companies seek," said Anderson.
CyberTECH acquires San Diego office space and breaks it down into small offices for cybersecurity companies. Anderson describes it as "subscribing to real estate," a membership-driven, stake-based model with which many people are comfortable. "It works because it's hard to get a broker focused on deals of such small size," he adds.
With the advent of these sharing-economy firms, is subleasing going away for CRE? It could be, said the panelists.
San Diego CRE is in a solid recovery phase with some creative trends leading the way. Are You In The Know? Join us at RealShare SAN DIEGO on May 17 for impactful information from the leaders in San Diego CRE. Learn more.