HUNTINGTON BEACH, CA—Marcus & Millichap says its Institutional Property Advisors (IPA) division has closed the sale of Casa Monterrey, a 208-unit apartment community here. The $60,250,000 sales price equates to nearly $290,000 per unit. The asset had been owned and operated by a local family office since 1974.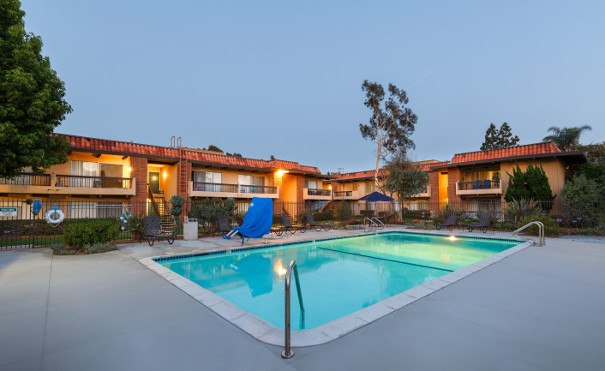 "Originally constructed in 1970 and impeccably maintained by previous ownership, Casa Monterrey Apartment Homes has undergone over $4.2 million in upgrades since 2007, and yet the opportunity remains to elevate the standard of rental living via targeted interior and community enhancements," said Joseph Berkson, Marcus & Millichap first vice president investments.
"The rare opportunity to acquire an institutionally sized multifamily asset in coastal Orange County with a value-add component, allowed us to generate significant interest in the offering from a wide range of investor profiles," added Stewart Weston, IPA executive director.
Berkson and Weston, along with Christopher Zorbas, IPA senior director, Alexander Garcia, Jr., IPA senior director, David Sperling, IPA director, and John Montakab, IPA associate director, represented the seller, and procured the buyer, Saratoga Capital Inc.
Located on the corner of Warner Avenue and Edwards Street in Huntington Beach, the apartment community is just minutes from the region's major employment centers, high-profile retail destinations, and renowned beaches.
Based in San Jose, Saratoga Capital has more than 40 years of experience providing California real estate loan brokers a direct, private money lending source for short to medium term equity or hard money loans.
With more than 1,600 investment sales and financing professionals located throughout the United States and Canada, Marcus & Millichap is a leading specialist in commercial real estate investment sales, financing, research and advisory services. With a network of senior-level investment advisors located throughout the United States, Institutional Property Advisors (IPA) is qualified to meet the needs of institutional and major private investors. IPA's combination of real estate investment and capital markets expertise, industry-leading technology, superior support services and acclaimed research offer customized solutions for the acquisition and disposition of institutional properties and portfolios.