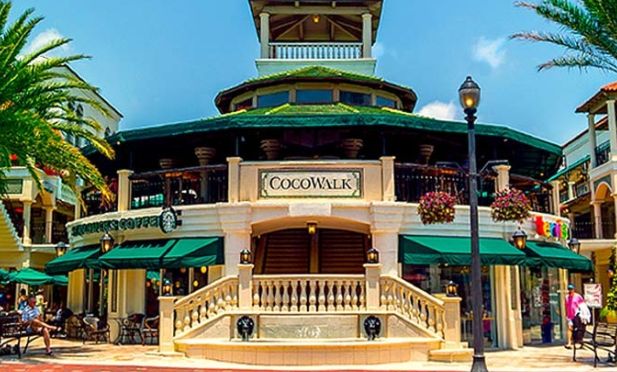 MIAMI—Outside of core downtown areas, the majority of South Florida's urban landscape has only experienced one era of development, much of it involving single land uses at a very low density and built many years or decades ago. That's changing—and that evolution was a topic of discussion in the third panel of the sixth annual University of Miami Real Estate Impact Conference.
Dubbed "Redevelopment Ready: Miami 2.0," the panel featured projects that are poised to bring about dramatic redevelopment as the next generation of South Florida development gets underway.
Al Dotson, a partner at Bilzin Sumberg, moderated the panel that included: Arnaud Karesenti, a managing principal of 13th Floor Investments; Al Milo, principal and vice president of Related Urban Development Group; and Michael Comras, president of Comras Company. (13th Floor is making some big predictions.)
Karesenti offered a presentation about a transit-oriented design in Coconut Grove called The Link at Douglas. Developed by Adler Group and 13th Floor Investments, the forward-thinking transit-oriented development will sit on a seven-acre site at the Douglas Road Metrorail Station. (Coconut Grove commercial real estate is hopping.)
The Link at Douglas is approved for 970 residences, a 150-key hotel, 70,000 square feet of retail space and a public plaza. A parking lot, along with Miami-Dade County's Water & Sewer Department headquarters, currently occupies the site.
"Our population is growing and its growing rapidly. Three hundred thousand people move to Florida every year. That's 1,000 people a day and 400 to 500 cars that come to this market every day. This trend has caused a lot of disruption that you see," Karesenti said. "There has never been a better time to have a truly transit-oriented development."
Related's Milo offered a sneak peak of a transformative project called Liberty Square. Built in 1937 during the New Deal and under Jim Crow, Liberty Square is one of the country's oldest public housing developments—and the first segregated public housing in America. Related is razing and redeveloping what was formerly known as Colored Town and now called Overtown.
The $307 million redevelopment will see the rise of 1,332 new housing units and 216 units at Lincoln Gardens in Brownsville. Milo assured no residents will be displaced in the five-year redevelopment project that many say could become a national model for urban rehabilitation. Liberty Square stretches 55 acres from NW 12th Street to NW 15th Street on the west and NW 62nd Street to NW 67th Street to the north. Related has a 75-year ground lease, and will manage and maintain the property once developed.
"This development in the middle of City of Miami, and on the outskirts of Wynwood and the Design District. It's our belief this was the next logical place for development to happen. It's not just about housing," Milo said. "It's about what services and amenities and components we can add to the neighborhood to allow it to thrive long-term. We approached it from the perspective of what are the educational challenges, the job placement challenges and the retail challenges this community is facing."
Finally, Comras shared how his firm is remaking iconic retail projects like The Shops Sunset Place and CocoWalk while working to redesign high street retail on Las Olas Boulevard in Fort Lauderdale. The Shops at Sunset Place, is a 515,000-square-foot, mixed-use center in South Miami. CocoWalk is a 198,000-square-foot lifestyle center in Miami's Coconut Grove neighborhood. Comras was part of a team that acquired both assets in 2015 for nearly $200 million.
Sitting on about 10 acres at the intersection of US1, Red Road and Sunset, The Shops at Sunset Place lies at 'main and main' within South Miami's commercial district. The neighborhood sits amongst some of Florida's most affluent residential areas including Coral Gables, Pinecrest, and Coconut Grove. About 100,000 people reside within three miles of the property, with an average household income of $120,000.
Located at the intersection of Main Highway, McFarlane Road and Grand Avenue, CocoWalk is a close commute to Miami's Brickell, Downtown, Coral Gables, and Key Biscayne neighborhoods. Coconut Grove benefits from some of the strongest year-round income demographics in South Florida, a fast-growing daytime population with over 1 million square feet of office space within walking distance, five existing and three planned hotels, proximity to a number of prominent schools, and one of Miami's best-performing residential markets.
"The challenge is to look for opportunities to get people off the couch. When you think about health clubs or movie theaters, there's no reason to go to those," Comras said. "It's about the social atmosphere. People want to see people. People like to see people."