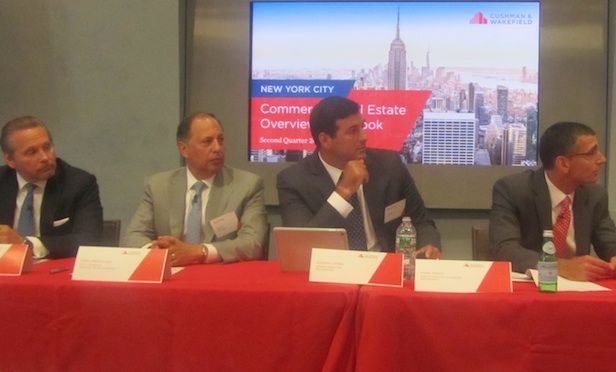 NEW YORK CITY—Though the city's office market keeps on ticking, signs of a correction appear evident, with the words "concerning" and "confusing" bandied about to describe its performance thus far this year at the Cushman & Wakefield mid-year media briefing Tuesday in Midtown.
"While 2016 has not been as strong as the past two years, it is still well above historical averages as New York City's economy continues to be one of the nation's leaders in employment growth," said Ron Lo Russo, president, New York tri-state region. "At 13.6 million square feet of leasing activity through the first six months of the year, we're ahead of the historical average."
Still, lease renewals are up 46% compared to mid-year 2015, while new leases are down 11.2% compared to mid-year 2015, signaling hesitation among occupiers, revealed Richard Persichetti, research director, New York tri-state region. "Companies are more likely to sign renewals, given economic uncertainty, versus incurring the costs of a move."
Velocity in the financial services sector is down about 10%, he added, due to stock market fluctuations at the beginning of the year.
In Midtown, the vacancy rate rose from year-end 2015 to 9.2% while demand is down by nearly 19%, "an enormous drop," declared Mark Weiss, executive vice chairman. Further, the submarket saw new leasing activity slip by 18.7% year-over-year, to 8.6 million square feet, while renewals were up by 11%, with over 3.9 million square feet signed.
"Landlords should be very concerned," about supply overtaking demand, he noted. Some clearly are, as concession offerings are high, even amid rising average asking rents across all three Manhattan sub-markets.
A different story is happening in Brooklyn. The borough offers office tenants "every amenity under the sun, excellent transportation, thousands of college students, a highly educated workforce that's growing every day, great transit, close proximity to Manhattan, growing residential and retail markets and significant incentives to help you grow your business once you're there," asserted Joseph Cirone, senior director.
"We have 13.5 million square feet of office space coming online in the next few years, and nearly all of it pulls from Brooklyn's industrial roots, combining history and character with Class A space."
Further, he explained, the supply offers a discount over Manhattan. "If you're a tenant looking for an edge, that kind of space in Manhattan will cost you $90 per square foot. In Brookyn it'll be below $60 per square foot. and when you factor in the REAP incentive, that's an average of a $15 per square foot savings.
"If you are a Manhattan tenant with a lease expiring in the next 36 months," he added, "you're crazy if you don't come kick the tires in Brooklyn."
Meanwhile, in the retail space, the local market is seeing the same trend that's happening nationally: experiential and branding experiences are the next wave of stores, stated Gene Spiegelman, vice chairman and head of North America retail services. Still, supply is outpacing demand, so repricing is taking place, and "we expect to continue seeing a repricing trend."
And all of these trends—not to mention Brexit—are having an impact on investment sales, contended Robert Knakal, chairman, New York investment sales. "We believe we're nine months into a reset of the investment ­­­market. ­Multifamily properties are doing well but land and hotels—which are most reactive to the market—are having a tough time, and retail is somewhere in the middle."
The apparent strength of values is misleading, he noted, because deals where the seller's target price isn't achieved simply isn't happening. Yet Brexit will be good for New York, Knakal predicted. "New York and London are the most popular locations for foreign capital, so we think more now will come to New York."
Still, the mix of good and bad indicators is leaving analysts flummoxed. "I haven't been this confused since 1998," Knakal admitted. "Back then, values were high, and people thought the market was going to tank. It took a pause and then ran for nine years.
"At the midpoint of 2016," he said, "the New York City investment sales market is no clearer than at the beginning of the year."