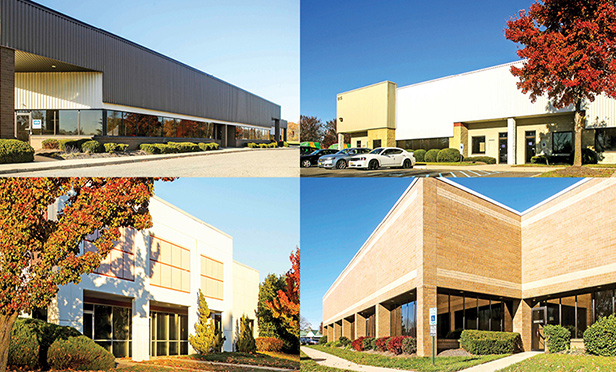 This article was updated at 5:12 p.m. on 10/17/2017 to include a list of the properties in the portfolio.
MOORESTOWN AND BURLINGTON, NJ—Mack-Cali Realty Corporation has sold a 26-building, 1.2 million-square-foot office/flex portfolio in Moorestown and Burlington, NJ, to Brennan Investment Group, a Chicago-based private real estate investment firm that acquires, develops and operates industrial properties in select major metropolitan markets throughout the United States. The price was not disclosed.
A Holliday Fenoglio Fowler team led by senior managing directors José Cruz and Doug Rodio and managing directors Brett Segal and Kevin O'Hearn marketed the portfolio on behalf of Mack-Cali. Brennan Investment Group purchased the portfolio free and clear of any mortgage financing.
"This portfolio had a significant amount of interest give its size and the potential upside," Cruz says.
The portfolio includes 24 buildings in Moorestown and two buildings in Burlington Township that are 91-percent leased overall. Tenants include businesses in health care services, pharmaceutical and clinical packaging, and medical supplies.
The properties are situated within two of the area's top business parks near the Pennsylvania/New Jersey border. The location has easy access to the area's primary highways, including Interstates 295, 195, 95 and 276 and Routes 130, 206, 70 and 38. Additionally, the portfolio is located within 20 miles of the Philadelphia International Airport and within 10 miles of the Philadelphia Regional Port.
The properties in the portfolio are: 1, 2, 101, 102, 225 Executive Drive; 2, 101, 102, 201, 202 Commerce Drive; 1245, 1247, 1256 N. Church Street; 97 Foster Road; 1507 Lancer Drive; 840, 844, 915 N. Lenola Road; 2, 30, 31, 40, 41, 50 Twosome Drive; 3, 5 Terri Lane.