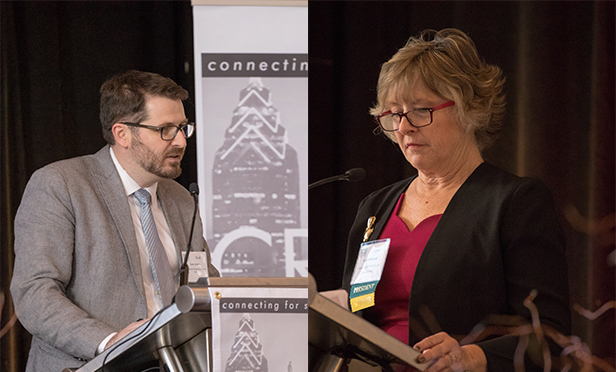 PHILADELPHIA, PA— The Philadelphia chapter of Commercial Real Estate Women, known as CREW Philadelphia, is making a major philanthropic commitment to practical education in real estate. CREW held its annual charity fundraising luncheon recently at the Loews Philadelphia Hotel and raised about 14 thousand dollars that will be used for scholarships and other support at YouthBuild Philadelphia.
"We are a school that really empowers young people who had previously left school to come back and reclaim their education and reclaim their futures," says Ted Malloy, individual giving coordinator, YouthBuild Philadelphia. Malloy says the funding from CREW will help the school expose students to a broader range of commercial real estate career options.
---
You can hear an audio news story about the CREW Philadelphia donation to YouthBuild Philadelphia in the player below.
---
Philadelphia CREW President Lynn McDowell, a senior paralegal at Equus Capital Partners, says the organization is always looking for ways to extend its "purposeful philanthropy" in ways that can help women advance in the CRE industry.
"Commercial real estate has long been dominated by men, so now we have the opportunity to introduce young women into the real estate field and understand that there are many opportunities available to them," she says. "We're educating them on what real estate is, and the career paths they may choose."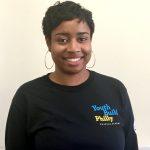 The students, most of whom had previously dropped out of high school, get a year of study and practical field experience from YouthBuild, followed by a year of mentoring support as they move out into careers or into college programs, says executive director Scott Emmerick.
"There are young people across the city who have an incredible amount of talent, ability, and motivation," he says. "You see graduates come back and talk about what they've done for their families, what they've done in their jobs and their communities, and it is incredibly rewarding."
Gazing out over the ballroom filled with more than 600 CREW Philadelphia women, YouthBuild student Shonte Workman can feel the possibilities for herself.
"I see them and they made it, and why can't I?" she asks. "It's women power, it's awesome!"