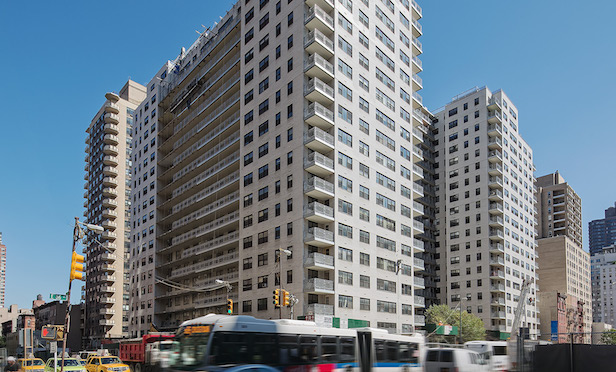 NEW YORK CITY—The Chetrit Family and Stellar Management have obtained $550 million of fixed-rate financing for two Upper East Side apartment properties, Yorkshire Towers and Lexington Towers. Natixis Real Estate Capital LLC and UBS provided the financing, which was arranged by Cushman & Wakefield.
Yorkshire Towers, located at 305-315 E. 86th St., is a 692-unit, 21-story apartment building, built in 1964. The building spans the entire eastern block-front of Second Avenue between 86th and 87th streets. It is located at the entrance of the Second Avenue subway, which opened in January 2017.
Lexington Towers, with an address of 160 E. 88th St., is a 137-unit, 15-story apartment building, built in 1963. It sits on the southeast corner of East 88th Street and Lexington Avenue, three blocks from Central Park.
Renovations of the properties completed this summer included restoration work to the lobbies and common areas. Renovated units include walk-in closets, oak floors, designer kitchens with stainless steel appliances, in-unit washers and dryers, oversized private balconies and newly installed recessed lighting fixtures.
A Cushman & Wakefield equity, debt and structured finance team of Steve Kohn, Alex Hernandez, Alex Lapidus and Noble Carpenter, along with the capital markets team of Doug Harmon and Adam Spies represented the borrowers.
Kohn, the president of the equity, debt & structured finance group, referred to the properties as multi-generational Manhattan real estate. "The extensive renovation program undertaken by the ownership has positioned these assets for long-term success in the competitive Manhattan residential market," he says.
Hernandez, the executive director of the group, says a combination of a healthy securitization market and a highly liquid subordinate financing market for the assets resulted in very attractive financing terms.
According to industry data sources, the borrowers originally purchased the two buildings in September 2014. The new debt replaces a roughly $425-million loan made by Deutsche Bank.