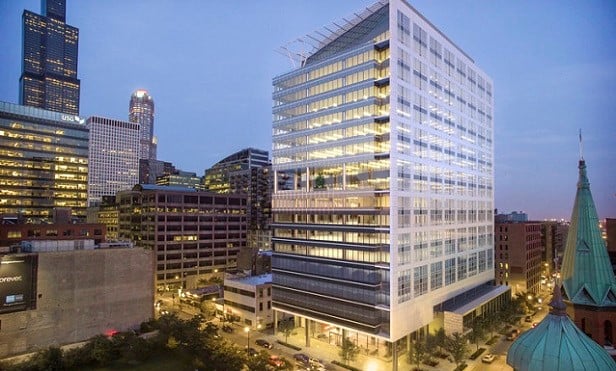 CHICAGO—After several years of tightening, the vacancy rates in some of Chicago's downtown submarkets have started to increase, largely due to the recent opening of several class A towers. The movement of so many tenants into these new trophy properties has opened up holes in other buildings, and many observers feel that the tipping point in Chicago office fundamentals that has been favoring landlords is approaching. In other words, events are unfolding as predicted.
"This is what happens in markets when new space is delivered," Jeff Dowdell, senior vice president, Transwestern, tells GlobeSt.com.
Chicagoland's overall office vacancy decreased 10 bps to 16.8% with a total negative net absorption of 62,832 square feet, according to a new mid-year report from Transwestern. The CBD's net absorption in the second quarter was only slightly positive at 16,006 square feet. But there is currently 4.1 million square feet of sublease space available in downtown Chicago with 1.63 million square feet vacant and available for immediate occupancy. Many of these openings are class A and B spaces with long lease terms remaining, and these "leave behind" spaces are a growing concern for CBD landlords.
"Certain owners still have leverage," Dowdell adds, especially those catering to the largest users. But the smaller users, ones needing between 20,000 and 50,000 square feet, are the "bread and butter" of the CBD office market. "They are going to have options," and landlords may begin to entice them with increased concessions.
The downtown may also lose what has been one of its largest demand drivers. For some time, big suburban users such as McDonalds, Motorola and many others have left suburban campuses for new downtown spaces that their younger employees find more appealing. But Dowdell says "this can't continue forever. And it's not as big as it used to be." Many of the largest suburban users have already analyzed their locations, and most that need a downtown location to recruit talent have already pulled the trigger. Others, such as Zurich Insurance, have chosen the suburbs and built their own trophy campuses.
Still, "demand for CBD space is still very strong, just not as good as it was in 2015," he says. The new trophy spaces at 444 W. Lake St., and 150 N. Riverside have leased up very well. Overall, in the first half of 2017, developers completed about 1.6 million square feet of new space, the vast majority of it in the CBD, and only 22.1% of the total remains vacant.
But the new speculative building at 625 W. Adams in the West Loop "is now the one everyone is looking at." Partners White Oak Realty and CA Ventures will open the 20-story tower in less than one year. Based on what he sees in the market, Dowdell believes "the demand will be there."