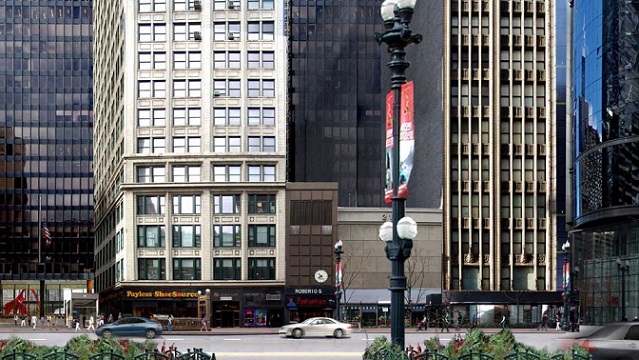 CHICAGO—The region's apartment sector has been growing at a healthy clip, especially in submarkets around the city's CBD, but it may hit a peak next year, according to the latest multifamily market report by Marcus & Millichap. The firm credits the numerous corporate relocations from the suburbs, and subsequent job growth in Chicago's core, with igniting apartment construction geared toward young professionals seeking an urban lifestyle.
"Development remains significantly elevated above the previous five-year average and will peak in 2018, placing upward pressure on vacancy metrowide," the report states. And although developers continue to add high-rise structures to the skyline, scarcity of land in the core will lead a significant number of builders to repurpose old office spaces into rentals. The Century & Consumers Buildings at 220 S. State St., and the Insurance Center Building at 330 S. Wells St., the latter of which residential specialist Marc Realty Capital bought in 2016, are two of several projects slated to replace obsolete office space with hundreds of apartments.
Marcus & Millichap expects that developers in the Chicago metro will end up finishing about 8,600 units in 2017, a slight decline from the roughly 8,700 completed last year. New units in Streeterville, River North and the Loop will account for about half of all deliveries. And all that activity will lift the vacancy rate to 5.1%, a boost of 50 bps. In 2016, deliveries also exceeded demand, and the vacancy rate rose 80 bps. "The average effective rent will increase in 2017 to $1,418 per month, slightly outpacing last year's gain of 4.0%," the report says.
A wave of deliveries during the third quarter also outpaced net absorption in the suburbs, lifting vacancy up in suburban Chicago, according to Marcus & Millichap. Still, the suburban vacancy rate has remained below 5% since 2008 due to steady demand. "A few submarkets defied the trend to register vacancy declines during the last 12 months, including the Far Northwest Chicago Suburbs and Lake County/ Kenosha. Few completions and healthy demand led to a vacancy rate in the mid-2% area in both submarkets."
The robust demand for apartments has given investors a big appetite. Sales velocity ticked up 2.4% during the previous 12-month period, Marcus & Millichap finds. The average price climbed 1% to $171,600 per apartment. But that pace may be about to slow.
Most observers expect interest rates to Increase over the course of the year, and push up the cost of capital. "While commercial real estate fundamentals remain strong, rising costs associated with debt financing will tighten the spread between cap rates and lending benchmarks," says William E. Hughes, senior vice president, Marcus & Millichap Capital Corp. "This environment could weigh on transaction activity as investors evaluate their yield options. Cap rates have remained relatively stable over the last year, but upward movement in Treasury rates has amplified the expectation gap between buyers and sellers."