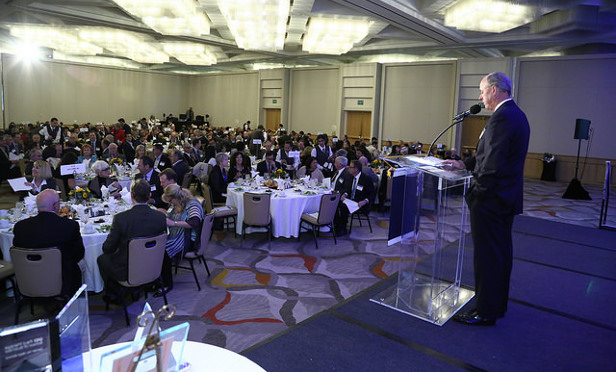 IRVINE, CA—The Center for Real Estate at UCI's Paul Merage School of Business paid tribute to four of the top leaders in the real estate industry at a recent awards luncheon and presentation of the lifetime achievement award at the Hotel Irvine here. The luncheon was sponsored by FivePoint, a California-based community real estate development company, and Kennedy Wilson, a global real estate investment company; more than 500 guests attended the celebration.
Among the honorees were Douglas C. Neff, partner/president at IHP Capital Partners, who was presented with the 2016 Lifetime Achievement Award. According to long-time friend John Duncan, "Doug is one of the brightest people any of us know. He's also one of the most competent and one of the most effective." Larry Webb, CEO of the New Home Co., commented, "Doug is a powerhouse in the real estate industry. He's easily the smartest guy in every room." Gordon McNeill, president of Sage Hill School, added, "In an organization, there's always a few people who really transcend the entire institution. Doug is one of those people."
Marco Vartanian, SVP of Colony, Starwood Homes, received the 2016 Rising Star Award. John Cushman, chairman of Cushman & Wakefield, Inc. remembers giving Vartanian advice. "I told him to always remember one thing: the early bird gets the worm, and the harder you work, the luckier you get. And, that's Marco."
According to Vartanian, "What motivates me is to encourage the people I work with to see a vision of the future that is greater than what they can see for themselves. I think of myself as a service provider for all of the people I work with every day."
Other award recipients included Timothy L. Strader, Sr., founder/chairman of Starpointe Ventures, who received the 2016 Distinguished Service Award, and Robert S. Brunswick, co-founder and CEO of Buchanan Street Partners, who received the Orange County Community Foundation Power Packed Philanthropist Award.