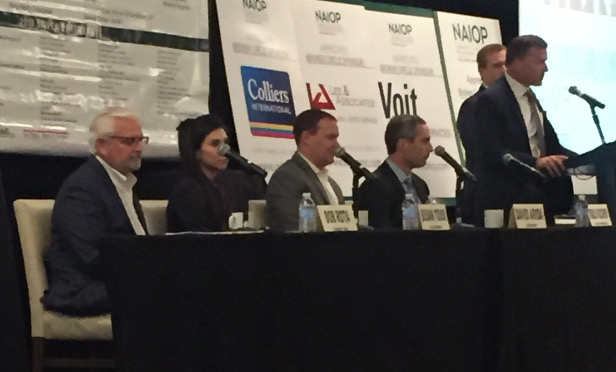 SAN DIEGO—With recruitment being key to growth, innovative companies in San Diego need a better transportation system, housing that's affordable and a broader technology ecosystem to attract talent and grow, said panelists at Wednesday's NAIOP San Diego breakfast event. Titled "Job Growth in San Diego?" the event featured panelists from four innovative San Diego companies discussing their evolution, their growth trajectory and what they need from stakeholders in order to continue succeeding here.
After having each panelist talk about their companies and what they do, moderator Mark Cafferty, president and CEO of San Diego Regional EDC, said talent is the key driver to growing companies and asked them what has allowed them to grow here and what their challenges to growth have been. Pablo Koziner—president of Solar Turbines, a 90-year-old company wholly owned by Caterpillar Inc. that designs and manufactures industrial gas turbines for onshore and offshore electrical power generation, for marine propulsion and for producing, processing and transporting natural gas and oil—said because his firm serves a particular industry, it's one of the few games in town, "which has allowed us to recruit from a very specific talent pool." He acknowledged that demographics are shifting and there are more options for recruitment now than in the past, but "our challenge is how to continue to evolve and tell a compelling story for Millennials?" His firm is exploring collaborative space, flexible schedules and other modern-day corporate features that are becoming more important as his company continues to grow. Tax regulations and labor laws are other challenges, he added, particularly with regard to cross-border business with Mexico. "Seventy percent of what we manufacture gets exported."
David Arida—VP of operations for Dexcom, an 18-year-old firm that develops technology for treating and monitoring diabetes more effectively—said five years ago, he couldn't give jobs away, but the firm has been growing 50% a year for the last four to five years. "We hired 800 people last year, and we started out the year with 1,200." The challenges the firm faces is, as a fairly young company, it makes mistakes, "and the competition for really smart people is strong," Arida said.
Susan Tousi, SVP for Illumina, a 19-year-old firm that is a leader in DNA sequencing, said in the five years she has been with the company, it has grown from 2,500 employees to more than 5,000, half of which are based in San Diego. "Our challenge is having enough space," she said, but added that with the addition of its recently completed i3 campus, it now has enough space for 4,700 employees in San Diego. The firm needs big lab facilities that allow people to come together, she added. "Innovation fuels our success."
Tousi said San Diego inspires innovation and longevity and that people are drawn in by the lifestyle here. While Illumina is also building in the Silicon Valley, the UK, Singapore and other markets, it still considers San Diego its hub. The challenge in attracting people is the lack of a good public-transportation system and the fact that large families are drawn to North County, which is a bit of a commute to the firm's La Jolla campus, she added.
For ViaSat, a 31-year-old Carlsbad, CA-based tech firm focused on high-speed connectivity, the story is "high tech meets beach town," said Bob Rota, VP of facilities and security. "People come for the technology of our product, but stay for the benefits and amenities." The firm's business is 50% government and 50% commercial, and it grew double digits organically last year. It's not uncommon to see beach cruisers moving between the buildings on its Carlsbad campus, along with wetsuits hanging to dry. "The area really fits our culture well," said Rota.
ViaSat's challenges to recruitment and growth are the high cost of living in San Diego, especially since the company likes to recruit interns. While the cost of living in Carlsbad is cheaper than in Downtown San Diego—and certainly lower than in other California markets—it's still high, but "there's a great talent pool in the area" from which the firm recruits, said Rota.
Cafferty said one of the challenges he's seen to recruiting strong talent for iconic San Diego firms such as Qualcomm is the high cost of living as compared to North Carolina's Research Triangle, where $100,000 buys you a lot more house. Another concern is whether or not there's a place in town for the recruit's spouse to work if they relocate here.
Next, Rota showed some slides of ViaSat's offices, which include company branding and verbiage around the facility, something employees like, he said. The offices feature a slide between floors and a Tommy Bahama look. While collaborative space is important, and there are "lots of collision points inside" the space, "engineers want heads-down time, so collaboration doesn't always work." To that end, the firm has created small offices for privacy. Other features include outdoor amenities—"Younger employees want to get out of the office"—such as an area called the Grove, which offers a fire pit, brewery, ping pong and seating, built in the middle of a parking lot. While the facility has a café, the Grove has a place for food trucks to visit. Rota said the company is all about technology, sustainability and having no standard, which allows for creativity.
When Cafferty asked the panelists to discuss the lessons they've learned about employees since being in business, Tousi said having events where people can gather to share ideas has been hugely popular. Rota encouraged the use of VR for visualizing what space will look like before it's built, and Koziner said employees want to connect to a sense of greater purpose. Arida said while his firm's facilities aren't as mature or refined as the other panelists' companies' facilities, he is inspired by them and is looking forward to his company's future.
During the Q&A session, Tousi said Illumina uses innovation as a recruitment tool, and a green facility is essential to recruiting talent today, but "we need more companies doing computer science in the high-tech space to provide a broader ecosystem that attracts talent."
When asked about the border tax's effect on the companies, Koziner said this is something his firm is watching closely. "It depends how the tax impacts flows in and out of Mexico. This is a top issue for us, and we have a top seat at the table with our regulators over it. It's a big issue."
Rota said finding a way to introduce a better mix of affordable housing around high-tech companies would be one way the real estate community can help company growth, and Koziner said efficiency is also a big issue, particularly as it relates to transportation such as public transit or bike routes. He cited the expansion of India St.'s Little Italy as an example of another way to help businesses since it energizes communities.