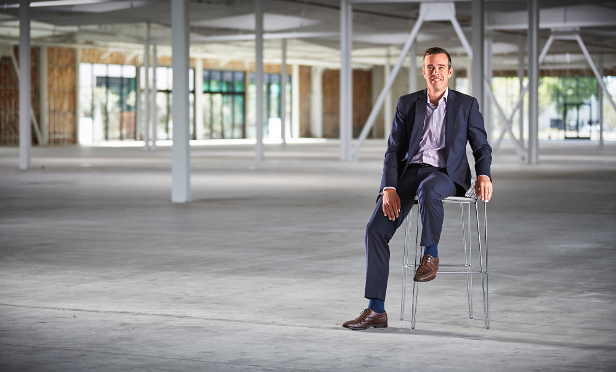 SAN DIEGO—Between Amazon, Illumina, Northrop Grumman and a spate of other large corporate users, the options for large office users are dwindling, driving the redevelopment frenzy, Brett Ward, managing director of Cushman & Wakefield's office division in San Diego, tells GlobeSt.com. The region's office market regained its robust momentum in the third quarter spurred by some large corporate users, according to the firm's Q3 office market report.
The market achieved 716,600 square feet of positive net absorption, bringing total year-to-date occupancy growth to nearly 1.3 million square feet, which equates to an average of 423,000 square feet of growth per quarter. According to Jolanta Campion, C&W's research director in San Diego, this was the highest level of positive net absorption through the first three quarters of any year since 2005's 1.4 million square feet of absorption.
According to Ward, occupancy growth in the third quarter was heavily driven by a handful of large corporate users. Illumina occupied the newly delivered 316,300-square-foot i3 project in Eastgate, and Renovate America took occupancy of a newly renovated 161,000-square-foot building for its new consolidated headquarters in Rancho Bernardo. Northrop Grumman also expanded into an existing 222,500-square-foot building at Summit Rancho Bernardo. "We also saw notable move-ins from the California Institute of Art & Technology (44,000 square feet in National City), Synteract (37,000 square feet in Carlsbad) and Certona (32,000 square feet in Sorrento Mesa)."
We spoke to Ward about large-occupant leases in this market and what we can expect for next year.
GlobeSt.com: Do we expect more new large-occupant leases next year like there were this year?
Ward: Next year, we will see Amazon take occupancy of its 90,000-square-foot space in UTC. Northrup Grumman will probably continue to grow, as will Renovate America. And we hope Illumina will continue to grow as well. Takeda Pharmaceuticals is taking a 160,000-square-foot build-to-suit in UTC, which won't take place until 2019—they're tearing down a building, which will take time. La Jolla Pharmaceuticals is taking 80,000 square feet, also in the UC San Diego market. Service Now is growing like a weed—it occupied 60,000-square-foot and 90,000-square-foot buildings and just took down another 60,000 square feet. Abacus also took 60,000 square feet and is growing. So, there's a fair amount of mid- to large-size companies that will be taking occupancy and have already signed leases.
GlobeSt.com: Which submarkets are likely to lose tenants to other, less-expensive markets?
Ward: From a cost standpoint, the I-5 and I-15 corridor are inversely related. When pricing gets really high on the I-5 corridor, tenants will shift to the I-15 corridor—Rancho Bernardo and Scripps Ranch. We have seen some of this, but Renovate America and government-funded programs have shored that up so we may not see that this go-around again. Up and down the I-5 corridor, Del Mar's vacancy is in the mid-teens and UTC is in the single digits. Large blocks of availability are mostly in Sorrento Mesa, which is about 18% to 20% vacant with an active network that's about to give back space.
GlobeSt.com: What drives continued office growth in this market, and what stifles growth here?
Ward: The regulations are a big part of what stifles growth, and taxes. What actually drives San Diego is our entrepreneurial growth with scientists or tech executives starting new companies, getting venture capital or private-equity funding. This is blowing them up and making these companies hire like crazy. That's what drives our growth, and what prevents them from growing is lack of capital.
San Diego County, from an office standpoint, is getting close to stable. We're stabilized at 10% to 12% vacancy, and we're getting there. There's not much in the way of new construction right now, and if we continue down this path of absorption, we will probably see four years of 1-million-square-foot gains. This dwindles quickly, so options become few. That's why we're seeing a redevelopment frenzy. From an amenity and architectural-relevance standpoint, developers are getting a good amount of capital to come in and redevelop buildings.
GlobeSt.com: What else should our readers take away from your San Diego office report?
Ward: Our life-science and innovation economy is strong. The life-sciences office market is sub-5% vacant, so the bigger companies are doing more build-to-suits. Illumina was a prelease deal, but there are not a lot of those in the San Diego. Companies are supply constrained, so new developments are getting leased, which is a huge plus for San Diego. It's been a great cycle.