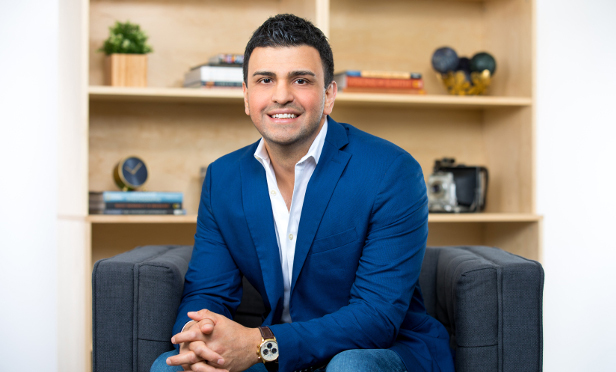 IRVINE, CA—Are commercial real estate transactions finally being streamlined through technology? If Ten-X Commercial's Offer Select has any say in it, then yes, they are. The platform was introduced in 2016 as a non-auction offering from the firm, and it seeks to provide a variety of benefits to brokers, sellers and owners. GlobeSt.com spoke with Cyrus Khadivi, SVP with Ten-X Commercial about the platform, how it works and what it can continue to do for the industry.
GlobeSt.com: Can you walk us through the mechanics of Offer Select?
Khadivi: Offer Select closely mirrors the traditional commercial real estate transaction process, but streamlines it with technology.
The first stage of the process is similar across all three Ten-X Commercial transaction solutions. The broker and seller work with Ten-X to compile the necessary property information and due-diligence materials upfront. This information is uploaded to a secure due-diligence vault from which interested buyers can pull the data they need to analyze and underwrite the investment. Where applicable, our financing partner Money360 leverages the due-diligence materials to pre-underwrite the property to further streamline the process.
During the marketing period, Ten-X Commercial leverages data science and its global reach to target local, regional, national and international buyers whose investment profiles suggest they may have interest in that particular property.
From there, prospective buyers can submit their offers on the Ten-X platform by either using the easy-to-use letter of intent or by uploading an LOI on their preferred template form. Offers are completely flexible, and every buyer has the ability to submit an offer based on a specific price, terms and conditions to close. After prospective buyers submit offers, the seller and broker can work with each buyer to provide guidance on how to improve their offers. This is followed by a call for final offers, after which the seller selects the offer they want. After the agreed-upon due diligence/financing contingency period, the property closes—generally, within 120 days of when the seller first brought it to Ten-X; in 2017, we've even experienced what I would call ultra-accelerated transactions with start to finish being 90 days or less. This means marketing occurred, offers were received, escrow opened and closed all under 90 days!
GlobeSt.com: What benefits do brokers, sellers and owners receive by transacting properties on Offer Select?
Khadivi: Offer Select accelerates the traditional transaction process without compromising value for any party. Because Offer Select accelerates transactions with upfront due diligence, augmented asset and buyer matching, and superior execution, it compresses the necessary time to transact a deal which benefits all parties and reduces the risk of a re-trade.
Sellers and brokers who transact using Offer Select are assured that they will achieve maximum value for their assets, because the combined investor reach of Ten-X Commercial and the listing broker is greater than the reach of any individual broker. Additionally, the increased efficiency and certainty of close allows brokers to facilitate more deals and spend more of their time doing the tasks that are truly valuable to both them and their clients.
GlobeSt.com: What has been the market's reception of the technology?
Khadivi: We rolled out Offer Select last year, and it was immediately met with a lot of interest from customers . There were many property owners who had been impressed with our wide reach that had previously utilized Live Bid and Managed Bid—our auction-based transaction solutions. However, they didn't feel that an auction sale was appropriate for their property—particularly if it was a high-quality, stabilized asset. With Offer Select rounding out our three transaction solutions, customers can now choose the one best suited for any particular property.
While we gained traction on Offer Select in its first year, we also got a lot of feedback from customers, including suggested improvements. To that end, our product team put in a lot of effort to develop major enhancements to streamline the user experience. The result was Offer Select 2.0, which we rolled out earlier this year. The updates in the 2.0 version simplify the buying process by letting buyers upload their own letter of intent or submit their offer online; sellers and buyers can also now strike back-up offers in case a negotiation does not move forward. New filtering functionality also allows investors to hone in on specific asset types, such as net-leased properties, while redesigned property-detail pages enable sellers to better showcase their assets. Soon, we'll introduce even more enhancements to Offer Select based on customer feedback.
GlobeSt.com: Have there been any notable successes with the program?
Khadivi: There have been a lot of successful Offer Select transactions.
In one recent deal, seller KABR Group and broker DSR Group sold a four-story office building in White Plains, NY, via Offer Select. The seller had sold several properties on the Ten-X Commercial platform and they were impressed with our ability to ensure they achieved maximum value for the asset. The property garnered numerous offers and ultimately transacted for $13.7 million.
In another recent deal, Stockbridge Realty Funds worked with Eastdil Secured to place an eight-story parking garage in San Francisco on Offer Select earlier this year. In this case, the listing garnered a total of 21 offers. While the property ultimately sold to the San Francisco Museum of Modern Art, an adjacent landholder, the seller was able to use Offer Select to maximize the deal's potential by creating a larger, global market for the deal.