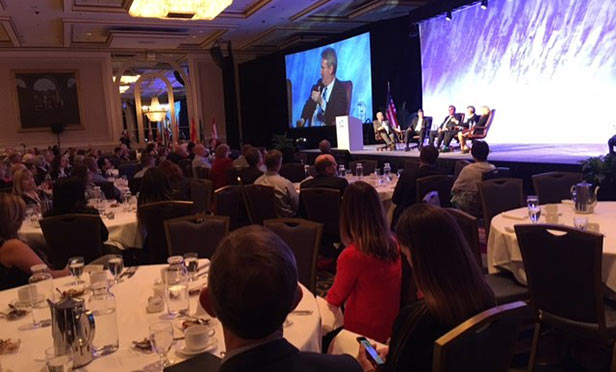 CHICAGO—Commercial real estate is undergoing a major transitions. More firms are embracing paperless, discarding traditional office setups and advancing a new generation of workers with their own strategies for completing tasks. The upheaval was front of mind at the Industry Leaders Lunch in the Hilton Chicago at this year's IREM Global Summit.
The institute brought together four leaders from the industry's leading professional associations at a featured session on Friday to help point the way forward. Moderator John Salustri of Salustri Content Solutions began by asking each of the panelists how this new era has changed the hiring process.
According to NAI Realvest's Robin Webb, president of CCIM Institute, retaining new employees is harder than ever. That's especially true for those from the millennial generation, as many in this cohort seem far more comfortable switching jobs than their older colleagues. "If you can't give someone an opportunity to serve meaningfully, they are simply not going to do it."
And that natural inclination to move around has been strengthened by the now low unemployment rate. "It's a buyer's market," especially for the heavily recruited, tech-savvy millennials, said Cindy Clare, president of Kettler Management and chair of the National Apartment Association. And she does not expect any changes until the economy experiences a downturn.
But making sure these younger employees have their own projects to complete, however small, should get them invested in the company. Furthermore, by allowing millennials to shoulder responsibility early in their careers, firms prepare them for even greater tasks down the road. And when it's time to think about succession, companies should then find they have a deep bench of talent.
"Not everybody is going to be a CEO," added Colliers International's Robert Brierley, chair and chief elected officer of BOMA International. Still, any organization that wants to thrive these days has to do more than fill slots on its organizational chart. Instead, it has to always consider "what are we going to look like in 15 to 20 years?"
Mike Lanning of Cushman & Wakefield and 2017 IREM president, asked attendees in the packed ballroom, "how many of you really have a good succession plan?" He advised that a good place to start was having a presence at professional meetings held by groups such as BOMA or IREM. "You need to see what people are out there."
Salustri then asked whether millennials worked differently than previous generations. "Absolutely," said Clare. "I think they are much better at multi-tasking than we are," possibly because they grew up surrounded by tech devices, and feel comfortable using several at once. "There are some people that perceive this as not working hard," even goofing off, but "they just work differently," and should be judged on results.
Keeping an open mind and being willing to experiment became one of the themes of this lunchtime discussion. The panelists advised caution when characterizing any generation, whether millennials or baby boomers. After all, many of the latter are just as enthusiastic about new technology, co-working and multi-tasking, and many young adults seem comfortable with more traditional arrangements.
Webb pointed out that even cutting-edge firms have gone back and forth on how they organize their workplaces. At one point, for example, Google had many of its people working from home, but then began encouraging a return to the office in order to fully harness the brainpower and creativity that comes from collaboration. He expects that within a few years, the modern workplace will have moved to a hybrid of the two strategies.
This ebb and flow will also put pressure on landlords for the foreseeable future. The days when firms will sign long-term leases for spaces simply because the price is right are probably over. Short-term leases for flexible spaces specifically designed to attract and retain employees will become even more popular, said Brierley. And tenants now have more options than ever. "If you're not willing to adjust, people will just go to WeWork. There's real change afoot."