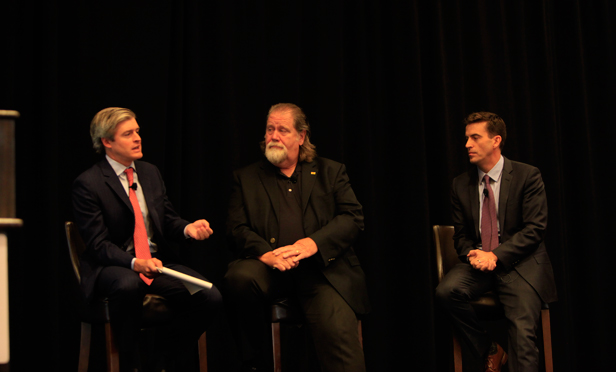 SCOTTSDALE, AZ—"The days of Knight Rider's KITT and James Bond cars are here," said moderator Ben Sayles, director, HFF. Panelists Dale Dekker, principal/architect, Dekker/Perich/Sabatini, and Patrick McMahon, director of development, Federal Realty Investment Trust, drove head-first into the discussion: "Self-driving Cars: A Game Changer for Commercial Real Estate?" The panel was featured during NAIOP's Commercial Real Estate Conference 2016, held at the Fairmont Scottsdale Princess.
The benefits of self-driving cars are easily recognizable: on-demand transport; increased mobility for youth, the elderly and people with disabilities; a dramatic reduction in accidents; increased fuel economy; reduction of parking structures; and enhanced human productivity. Ernst and Young has predicted that self-driving cars will impact American productivity on a level not seen since the Industrial Revolution.
Dekker says the process is revolutionary, not evolutionary. "The autonomous vehicle (AV) impact on urban and suburban development will be congestion mitigation. Ninety-five percent of the time, your car is idle and is one of the most rapidly depreciating items you can own. AVs and on-demand fleets could reduce parking by 70-90 percent. People are building 30- to 40-year assets—parking structures—that may only be valuable for 10 years."
Unlike manned vehicles, AVs will be in use 85 percent of the time. Once humans exit the cars, the vehicles can be parked six inches apart, maximizing space and drastically changing building design. Heat islands will decrease.
Taking humans out of cars has other consequences. There are an estimated 5 million automobile accidents per year in the US. "It's a whole industry set up around human incompetency," said Dekker. "It could disrupt the insurance business model." Then we have the 3.5 million truck drivers that may eventually be displaced by self-driving trucks, perhaps even spawning warehouses on wheels. Increased use of 3-D printers and AVs have the potential to become mobile manufacturing units. The implications are heavy and near. The AV co-op could mean the Uberization of the shared economy.
"This will eliminate massive amounts of jobs," said Dekker. "We are going from horse and buggy to F-16s in 10 years—so get your jet packs on."
McMahon approached the concept from a developer's perspective. "Offices are showing interest in shared AV fleets with ride sharing and piloted parking," he said. McMahon is advocating for new design in parking structures so that with the addition of more AVs added, fewer parking spaces will be needed overall, and the ground floor can be converted to retail. By going, in some cases, from 148 to 200 parking spaces, recapturing square footage can be dramatic. He sees corporate AV fleet investment as a step toward mainstream use.
Retrofitting parking structures for AV fleets has its challenges. Those built before 1980 will present the most difficulty. In general for AV parking, Dekker said zoning codes and ordinances will have to change. "And we have to ask clients, 'Do you really want to spend $20,000-$25,000 on a parking space you may not need?' This will accelerate rich, mixed-use office development due to the cost of parking."
AV technology will be adapted differently in different areas, according to Dekker. "In the West, we will see it used in long-haul travel and logistics." McMahon stated, "It will take hold in urban areas faster due to the premium cost of land."
For every one AV, eight manned cars will be taken off the road. As the panelists agreed, the significance of this cutting-edge technology is tremendous.