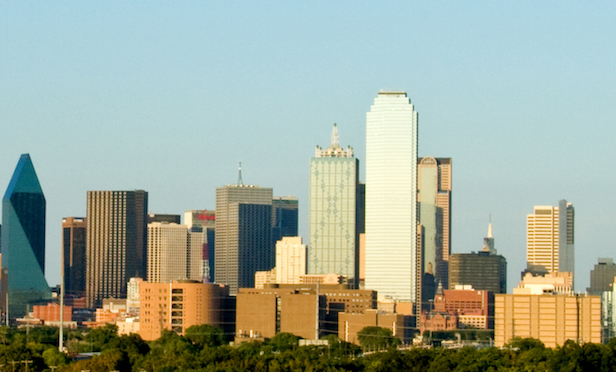 HOUSTON—Office vacancies across the major metro areas reached a 10-year low in December, Transwestern said Monday. The significant net absorption that contributed to the 11.5% vacancy rate at the end of the fourth quarter was geographically dispersed across regions.
Dallas/Fort Worth posted the highest annual total for net absorption at nearly 5.3 million square feet, a 64% increase over the previous 12 months. It also led in Q4 absorption at more than 1.5 million square feet. However, Ryan Tharp, director of research for Transwestern's Dallas office, points out that the majority of major markets contributed to this consistent downward trend.
"Miami, for example, posted a 10-year low in overall vacancy during 2017 with an average 150,000 square feet of positive absorption each quarter," he says. "The strength of the office market is not confined to a few specific metros or regions."
Although Northern Virginia was the only market aside from D/FW with Q4 positive absorption of greater than one million square feet, it was one of 18 to achieve that distinction over a 12-month period, out of the 48 markets tracked by Transwestern. Others included Austin, Baltimore, Boston, Columbus, Denver, Detroit, Kansas City, Las Vegas, Phoenix, Raleigh/Durham, San Diego, Silicon Valley, Seattle and Tampa in addition to NoVa and D/FW. Conversely, Houston withstood the highest negative absorption year over year at nearly four million square feet, although its Q4 total was a comparatively modest 51,628 square feet, suggesting that the office market in Texas' largest city is stabilizing.
Q4 rent growth also was strong, with nine of the top 10 geographically diverse markets posting Y-O-Y increases between 5% and 9%. The outlier was Boston, with 15.1% annual growth as of Dec. 31.
Nationally, the average asking rent at year-end 2017 was $25.51 per square foot, a 3.4% increase. The highest average asking rents as Q4 ended were seen in Manhattan at $73.89 per square foot and in San Francisco, just a whisker behind at $73.57 and well ahead of third-place Washington, DC's average of $51.84.