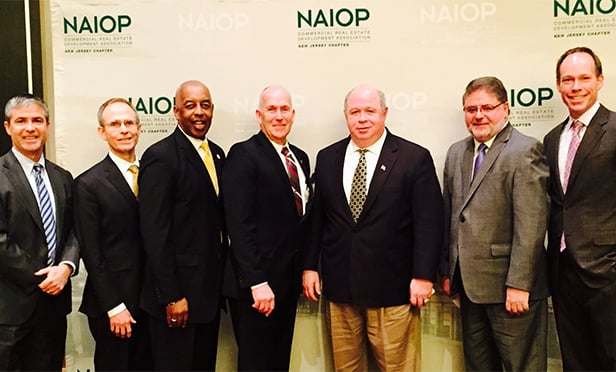 NEW BRUNSWICK, NJ—As part of its commitment to partnering with local leaders to create outstanding live/work/play environments that are magnets for the employers, investments and young professionals New Jersey needs to prosper and grow, NAIOP New Jersey hosted a Mayors Panel at its Annual Public Policy Symposium at The Heldrich in New Brunswick.
"All politics is local, and so is development," says NAIOP NJ President Clark Machemer of The Rockefeller Group. "Shifting demographics, rapidly changing technology and the economic challenges we all face make it more important than ever for the private sector to partner with government at all levels to bring jobs and investments to NJ towns."
Chuck Richman, commissioner of the Department of Community Affairs, focused on programs and improvements that will support local development, including the DCA's pending rule adoption to rein in permit and inspection fees for "big box" industrial facilities (the rules are expected to be adopted in May), and affordable housing, where the goal is to develop "site consistency, and municipal consistency – sensible, development-based standards."
He says government has "had trouble keeping up with technological innovation – we need to advance change. We're trying to bring the state into the modern era." Richman noted that online permitting "has saved $10 million a year for developers who have utilized it." Another initiative is "changing the paradigm of how we do the broader range of regulations," Richman says, urging that the state and municipalities look at "a national code process."
Melissa Orsen, CEO of the New Jersey EDA, says her agency is in "partnership with other agencies to provide affordable financing alternatives for towns and developers."
To date, New Jersey "has made great strides in attracting businesses," she says, pointing to $13.4 billion of new public and private investment. programs such as Grow NJ and the Economic Opportunity Act of 2013. These programs have led to ongoing redevelopment of the former Hoffman-LaRoche campus in Nutley, the new headquarters and training facility of the Philadelphia 76ers and other projects in Camden, redevelopment of the former Hahne's department store in Newark, and redevelopment of a former and long-dormant steel manufacturing facility in Trenton, among others.
"We are also working hard to find solutions for small businesses," Orsen says, and noted that EDA has a "new marketing program to demonstrate these successes."
Following the opening presentations, four New Jersey mayors participated in a panel discussion. Co-moderators Machemer and Dave Gibbons of Elberon Development Group stressed the importance of ongoing dialogue with the state's mayors.
Responding to a question from Machemer on the specific issues they face, and how they've approached them, Mayor James Barberio of Parsippany-Troy Hills discussed affordable housing requirements and the state of the office market. "We have many vacant office buildings," he says, but while challenges remain, "we have been doing great things. We have seen a positive increase in ratables because of our efforts to attract businesses."
For Hackensack, "the malls took a toll on downtown," says Mayor John Labrosse, noting that the bustling Main Street of the 1960s and '70s took a particularly big hit. "It is still a problem, but a rehabilitation plan was put forth in 2010, and we are now seeing new housing on Main Street."
"Our state is the biggest enemy of development, more than any other state," says Mayor Christopher Vergano of Wayne. While there has been some progress in terms of economic development programs, "The long approval process is still a problem," he says, singling out the Departments of Transportation and Environmental Protection. Nonetheless, "Wayne is thriving," he said, attributing much of that to the efforts of private developers.
Noting how his city has been through some difficult times, Mayor Eric Jackson of Trenton says his administration, in seeking new retail and residential development, is looking to public/private partnerships to accomplish that. "We are in the midst of a rebranding campaign," he says, with emphasis on branding Trenton as "the capital city." Part of the effort is public safety, Jackson said, noting that crime is down 21 percent.
Vergano noted that his city has two full-time planners, and he has had to overcome residents' opposition to mixed-used development.
"The biggest obstacle was working to get a DOT permit. Four months of delays are delays we can do without," Vergano says, noting DEP's adoption of FEMA flood maps before FEMA did: "We need more common sense in New Jersey."
Labrosse noted local resistance to PILOTs and the impact on development. The key is to make people "understand that giving somebody a boost helps the community – it helps and enhances a project."
Barberio says despite resistance from residents, for the vacant office space in his community, "mixed-use is the answer – Parsippany lacks a town center. We need a town center, a place to live work and play."
For Trenton, Mayor Jackson's biggest challenge is that his city totals 7.2 square miles – and state government occupies two square miles of that. "We have to be creative to get developers and companies on the parcels we do have," he says. "I wish we had the space for a larger employer like Walmart, but we do have opportunities for smaller businesses."
On the subject of liquor license reform, LaBrosse said the ability to include restaurants in redevelopment is an important investment factor. He pointed to Riverside Center, a retail property in Hackensack, whose tenants have 10 liquor licenses. "An 'umbrella' license would free up nine licenses for new restaurants," he says. A NAIOP study indicates that reform legislation to expand liquor licenses for restaurants only would create over 15,000 jobs and over 400 new restaurants, generating approximately $1 billion annually in gross state and local revenues.
"The rules are outdated – we have to lower the hurdles," says Jackson. "The current rules keep cities from their full development potential." Vergano cited the economic potential: "People who might stop in for a drink will do other things – like go shopping," he says.
Since many towns rely on state monies from the nearly depleted Transportation Trust Fund for infrastructure repair, Trenton's response is to "do a lot of infrastructure work in-house," says Jackson. "We never touch the infrastructure part of our budget," in terms of possible cutbacks, says Barberio. "Still, we have to find a way to fund the TTF." Vergano says Wayne itself spends $2 million a year on the local road infrastructure."
Machemer noted that in 2015, NAIOP New Jersey awarded its initial Public Partner Awards as part of the chapter's effort to promote discussion and interaction, looking for a synergistic relationship with mayors. How do the mayors themselves interact with their statewide counterparts?
"We look outside to see how others are doing it," says LaBrosse. "We look at who's doing what and doing it well," says Jackson, noting that his administration's approach extends beyond the state's borders to the US Conference of Mayors. "We look at our neighbors outside of state lines, an approach that has been very helpful."