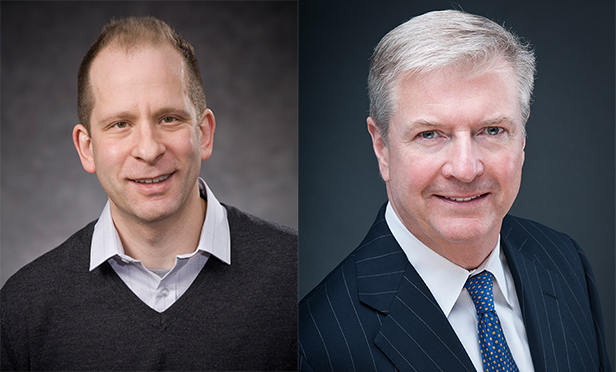 NEWARK, NJ—Kevin Riordan, the industry veteran named executive director of The Center for Real Estate at Rutgers Business School, says the program easily stacks up against similar programs around the country, and he hopes to gain that national stature for the Rutgers program during his tenure.
"I want to see our center's name clearly in the mix of other centers, Wharton, Wisconsin, Cal Berkeley, Georgia," he tells GlobeSt.com in an exclusive interview. "I want to see our center clearly seen as an equal to those centers."
Rutgers will need both a curriculum broad enough to assure employers that students are coming out well-trained, and a "reverb action," where employers happy with their hires from Rutgers return to the school seeking additional candidates, Riordan says.
"The to-do list to get there, is probably to make more awareness of all the activities that are going on at the center," he says. "Research, conferences, we want to keep that visibility out there. My goal is to continue to advance the reputation of the center and to try to mentor and help students to be prepared going into employment possibilities."
The Rutgers program, which describes itself as "positioned to transform and inspire the next generation of real estate leaders," was a logical next chapter for Riordan, after exiting corporate structured finance positions. Riordan studied at Rutgers as an undergraduate.
Riordan will be responsible for developing a long-term strategic vision for the Center as well as establishing and assisting with the implementation of executive and continuing education programs. He also will work with Advisory Board and Emerging Leaders Council members, faculty, and students to promote the Center through conferences and lectures with a focus on recruiting new students to pursue a career in real estate at the center.
Before joining The Center for Real Estate at Rutgers Business School, Riordan was CEO of Crexus Investment, a public commercial mortgage REIT, and previously served as senior managing director at TIAA-CREF, overseeing structured securities. He has extensive experience in financing, investing and securitization of commercial real estate through investment strategies involving commercial mortgages, mezzanine debt, CMBS and CDO securities, REIT debt and REIT common and preferred stock.
Educating others began to play a role in Riordan's portfolio early in his career, he says.
"In my career I have been, on and off, involved with education, starting way back in the early 80s, I was an adjunct teaching accounting at Jersey City State College," he says. "When I got involved at senior levels at TIAA-CREF, I would be asked to make presentations at NYU and Columbia, and that led me to becoming a judge as a practitioner for the Cornell University international real estate competition." The University of Wisconsin was a top performer in that competition, he says, and when he exited the corporate world after his last company was acquired, he saw that Rutgers had hired Morris A. Davis from Wisconsin to become the Paul V. Profeta Chair and Academic Director of the Center for Real Estate at Rutgers Business School. Conversations with Davis led to the current position.
Only a few schools offer Real Estate as a major course of study, he says. The rise of real estate education centers at schools like Rutgers is being driven by the marketplace, he says.
"What I've seen over time is more specialization," he says, noting that companies want entry level employees to be familiar with the industry and not need extensive training day one.
"They can take an interview and be able to talk the talk, because they have the nomenclature," he says. "They'll be able to talk about rent per square foot, they'll even know what the symbol is for that. They understand how cap rates work, they can go in and talk about the basic concepts of creating cash flows."
"Kevin's far-reaching experience in the real estate field, knowledge of the industry and strategic thinking make him an ideal fit as the Executive Director," says Davis. "Kevin shares our goal of providing the most advanced and innovative curriculum and the most important and timely research available for real estate to give our students an unprecedented advantage and equip with them with the skills and experiences needed to thrive and evolve into an industry leader of their generation. I welcome him to this role and look forward to working with him on making The Center for Real Estate the number one academic real estate program in the country."
Riordan, who is a CPA, holds a BA in accounting from Rutgers-Newark College of Arts and Sciences and an MBA in finance from Seton Hall University. He is a NAIOP New Jersey board member and previously served on the Board of Governors as a member of Commercial Real Estate Finance Council. He was also a member of NAREIT.
Correction, 12/22/2016, 11:36 a.m.: Because of incorrect information in the press release about Riordan's appointment, an earlier version of this story incorrectly described Riordan as a NAIOP board member. He is a member of the board of the New Jersey chapter of the organization.