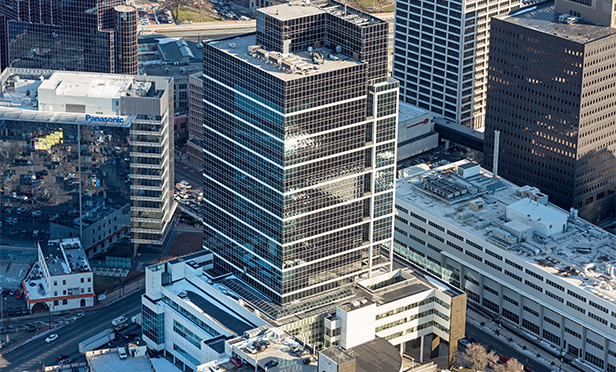 NEWARK, NJ—Mack-Cali Realty and The Praedium Group are taking advantage of the redevelopment renaissance stoking a hot real estate market in downtown Newark, and putting their joint venture property, One Newark Center up for sale. Jones Lang LaSalle will market the class A, 423,028-square-foot commercial office building for the Mack-Cali/Praedium joint venture.
"A combination of positive net absorption in the office market and mixed-use development is transforming Newark into a true 24/7 live/work/play destination," Brian Lindenberg, a vice president with Praedium, tells GlobeSt.com exclusively. "Ownership believes that the acquisition of One Newark Center will not only provide an investor with an attractive in-place yield, but also an opportunity to capitalize on the market's positive momentum and future appreciation."
One Newark Center is on Raymond Boulevard between McCarter Highway and Mulberry Street, just one block from historic Military Park and one block from Newark Penn Station. The building's proximity to the train station provides tenants with NJ Transit, PATH and Amtrak service to New York and points along the Northeast Corridor, as well as access to the Newark Light Rail system.
"Newark is progressively transforming into a true 24/7 live/work/play environment. The transit-oriented destination is leveraging its unparalleled infrastructure to attract a tenant pool that's broader than traditional law firms and back-office operations," says Thomas Walsh, managing director of JLL's New Jersey office. "It seems that every week Newark has a ribbon-cutting for a multi-family development or new retailer and that is steadily chipping away at the city's perceived non-institutional stigma. You'd be hard pressed to find another mid-sized city in the Northeast with such organic growth."
"Jersey City, Hoboken, Metropark and Morristown are all experiencing historically high occupancy and rental rates, which puts Newark in an ideal position to entice transit-minded tenants," says Joseph Garibaldi, managing director, who oversees JLL's New Jersey Capital Markets. Investor interest in Newark has never been higher, he noted, as evidenced by the December 2016 sale of the 337,500-square-foot Two Riverfront Plaza and the October 2016 sale of the 973,000-square-foot 80 Park Plaza, both of which are located one block from One Newark Center.
The sale includes the sixth through the 22nd floors of One Newark Center, totaling 423,028 square feet. The first five floors are owned and occupied by Seton Hall Law School. The offering also includes a 10-story, 945-space parking structure that is physically connected to the office tower.
"As urban infill continues to occur around the property, One Newark Center is well positioned to take advantage of the retail and business opportunities that are coming to Newark," says Lindenberg. "The office tower further strengthens the reputation of businesses that choose to operate their business in one of the most highly sought-after, best-in-class, multi-tenanted office buildings in the city."
Newark's renaissance is coming to fruition, with a pipeline that includes approximately 7,500 residential units either already built or under construction within 1,500 yards of One Newark Center. Following Prudential's development of a world-class headquarters along Broad Street, a number of stalled development projects have either since been completed or are now underway, including Hahne & Co., One Theatre Square, One Riverview, the Carlton Hotel and several others.
"It isn't just residential or build-to-suit office driving the market. Newark is investing in its green spaces," says Walsh. "The city is revitalizing historic Military Park and recently announced that the 22-acre Mulberry Commons will transform acres of surface parking lots into a "High Line-esque" park, bridging the central business district with the Ironbound neighborhood."
One Newark Center offers a unique amenities package that includes a full-service café, featuring an outdoor patio, and an on-site parking garage for 945 cars. The office building's location provides tenants with a wealth of retail and restaurant options, and cultural attractions such as the New Jersey Performing Arts Center; the Prudential Center, which will open the new Grammy Music Experience later this year; and the Newark Museum. The 22-story office building was constructed in 1992 and offers easily-divisible floor plates ranging from 22,000 square feet to 26,000 square feet, some with outdoor balconies.
JLL has been selected to sell capital markets team overseeing the disposition includes Garibaldi; Walsh; Stephen Feinberg, vice president; and Katelyn Borovsky, associate; while JLL's Jon Meisel, managing director; Chris Conklin, vice president; and Conor Dolan, associate serve as leasing agents. All JLL personnel are working closely with Brian Lindenberg at Praedium.
Correction, 5/11/2017, 11:33 a.m.: Because of an editing error, Brian Lindenberg was incorrectly identified as Brad Lindenberg, and his last name misspelled in an earlier version of this story.