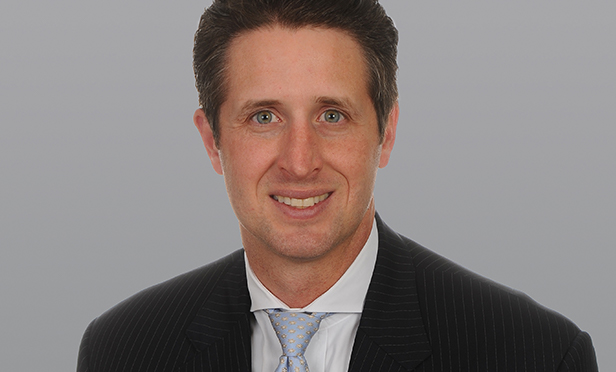 EAST RUTHERFORD, NJ—A new title and two industry honors for Cushman & Wakefield's Brian Whitmer speak to a good year for the 38-year-old capital markets specialist. Based in the commercial real estate services firm's East Rutherford office, Whitmer is team lead for multifamily, retail and land transactions with Cushman & Wakefield's Metropolitan Area Capital Markets Group – one of the tri-state area's most successful real estate investment sales groups.
The firm has promoted Whitmer to executive director, and he was just named to the "50 Under 40" list by GlobeSt.com's sister publication, Real Estate Forum, and NJBiz's "Forty Under 40" this fall. Earlier in the year, Whitmer received Cushman & Wakefield's "Standing Ovation Award," acknowledging his long tenure and dedication to the firm's culture.
During his 13-year career with Cushman & Wakefield, Whitmer, with the Metropolitan Area Capital Markets Group team, completed more than 520 transactions with a cumulative value of more than $22.2 billion. This included $3.2 billion in sales across 75 transactions—setting a 26-year team record—in 2016. These results made Whitmer one of the top 100 producing brokers at Cushman & Wakefield in 2016, and positioned him as the firm's highest-producing broker by title.
"The pace, intensity, dedication and effort required for this level of productivity and success speaks volumes about Brian's leadership, work ethic and industry relationships," says Cushman & Wakefield's Andrew Judd, New Jersey Market Leader. "His unwavering commitment to providing best-in-class representation for Cushman & Wakefield and his team, and his diligence in helping clients advance their strategic objectives truly set him apart. We congratulate him on his well-earned title and recognitions."
Whitmer says success in commercial real estate takes a combination of hard work, sacrifice, persistence, patience, trust and luck. He also notes that earning respect and recognition as a top professional in his field also requires being active within the industry. To that end, he regularly authors articles for trade publications and serves as a panelist for industry events. A certified member of the CCIM Institute, Whitmer also currently serves as chair of the Urban Land Institute, Northern New Jersey district, and sits on the Gala committee for NAIOP New Jersey.
"This business requires relationships, knowledge and reputation, and the ability to navigate the complexities of investment, finance and construction in a very fast-paced, active environment," Whitmer says. "I am fortunate to be part of a corporate platform and a group of professionals that are established as dominant and successful in this competitive industry."