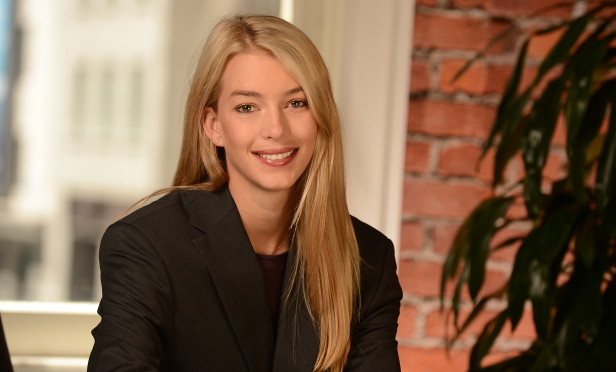 TUSTIN, CA—One big misconception developing leaders have about the commercial real estate industry, especially for those who are just getting started, is that there are only a few roles and areas of focus, Swift Real Estate Partners investment manager Kelsey Stuart Schultes tells GlobeSt.com. Stuart Schultes, a member of NAIOP SoCal, is one of only seven recipients of NAIOP's prestigious Developing Leaders Award for 2017. The annual award honors up-and-coming professionals under the age of 35 for their exceptional accomplishments, strong leadership and community involvement.
In her role with Swift, Stuart Schultes is responsible for real estate acquisitions, dispositions and asset management in Southern California and Washington. Prior to joining Swift, she was an associate at Eastdil Secured, responsible for institutional office-investment sales in Orange County and Los Angeles. Her background also includes roles with ECP Commercial and Atlas REO in San Diego.
We spoke with Stuart Schultes about the award and what developing leaders need to focus on today.
GlobeSt.com: What does the National Developing Leaders award mean to you?
Stuart Schultes: I am honored to have been recognized as a Developing Leader with NAIOP. NAIOP is an organization that I have been involved in for more than 10 years, and that has been instrumental to my career growth. I joined the organization as a college sophomore and received two NAIOP scholarships, participated in its Developing Leader mentorship program and completed its year-long Young Professionals Group course. Through NAIOP, I've met numerous industry leaders and peers with whom I now collaborate, execute deals and share industry information. Receiving this award solidifies my commitment to NAIOP, and I am thrilled to continue with the organization and one day give back to young real estate professionals the same way so many have done for me.
GlobeSt.com: What do you feel developing leaders need to focus on at this point in the cycle?
Stuart Schultes: Real estate will always be a cyclical business, and as such, professionals must always be prepared for change. With any downturn brings opportunity, so young professionals should seek out areas where they can create value, even if it is a departure from their current career. Depending on where one is in his or her career, a market downtime can be an excellent time to go back to school to get a master's degree. I earned my MBA during the last downturn, which is one of the best choices I made for my career and enabled me to accelerate my growth during the recovery.
GlobeSt.com: What do you feel most developing leaders don't realize about the CRE industry?
Stuart Schultes: I think one big misconception about the industry, especially for those who are just getting started, is that there are only a few roles and areas of focus. Commercial real estate is dynamic and has multiple sectors, markets and niche areas in which one could be an expert. It is much more than just principals and brokers. When I started in the industry, I thought I wanted to be a broker. I did not understand the various roles in debt, equity, transactions and capital markets. A mentor of mine suggested I focus on finance in college and learn Argus and valuation modeling, which allowed me to grow into the role that I have now.
GlobeSt.com: What else should our readers know about this award?
Stuart Schultes: Commercial real estate is changing. It was once known as being an industry of men in suits. I feel that those with an entrepreneurial, creative and competitive mindset will continue to improve efficiencies and technology in the commercial real estate industry, which will benefit owners, brokers and the economy at large. This award supports young professionals who have shown a commitment to leadership in the industry. Those who receive this award will go on to support the next generation to come, and the cycle shall continue.