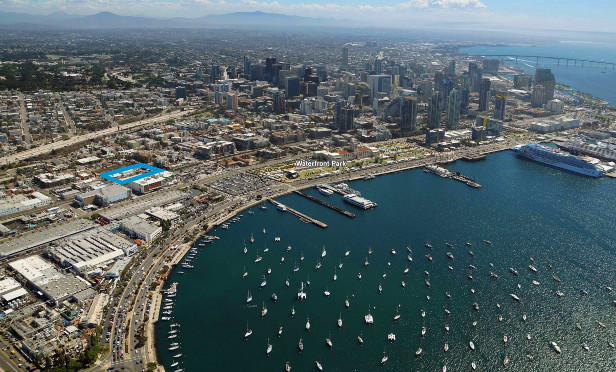 SAN DIEGO—Downtown San Diego continues its transformation with Kilroy Realty's purchase of a full city block at 2100-2174 Kettner Blvd. and 946 W. Hawthorn St. in Little Italy for $19.4 million. The developer is planning a class-A, 172,000-square-foot office-and-retail building at the site—the first new office building to be developed in this neighborhood in over 20 years.
The 52,500-square-foot site comprises three separate parcels that have been owned by three private families since the early 1920s. Colliers International San Diego Region's Victor Krebs and Mark Lewkowitz handled the transaction on behalf of the sellers and Kilroy and worked with the three property owners to market the parcels for sale together.
GlobeSt.com has learned from Colliers that the architect for the mixed-use project will be Gensler Architects; the start date for construction will be roughly fourth-quarter 2018, with a rough completion date estimated at first-quarter 2020; and the project will be five floors tall.
Krebs tells GlobeSt.com while it's difficult to say exactly how much of the Downtown market is owned by private family investors like these parcels were, these investments are viewed by the owners as family legacies; when they're offered for sale, it's usually because the properties no longer meet the families' investment goals, and the decision to sell is often an emotional one. "It's more than just the sale of the property—there's a history there," says Krebs. It's more than just making money; there's a non-monetary aspect to it. "It's kind of an honor to be entrusted with that; it's really important to these folks, so you want to do a good job for them."
In a prepared statement, Krebs said the parties involved felt the development of an office property in Little Italy would be catalytic for the Downtown office market. "We generated over 15 offers from prominent office and hotel developers. This speaks to the demand for Little Italy."
As GlobeSt.com reported in May, from a variety of eateries to its proximity to the water and airport, as well as its sense of community, Little Italy has emerged as one of the most desirable places in Downtown San Diego to live, work and play, according to A10 Capital executives John Rodiles, senior EVP, responsible for West Coast origination, and Chris Tierney, EVP. At the time, the firm had closed a $33-million loan to refinance a 19-story office property at 610 W. Ash St. in the Little Italy neighborhood.
And in January, Colliers' Peter Scepanovic told GlobeSt.com that Little Italy was one of the areas of Downtown that has what many residents and workers look for in the places where they spend time: walkability. He said, "That's what's really positive about the San Diego urban experience: it's expansive and livable, not wall-to-wall 12-story buildings."
One of Kilroy's most-prominent—and controversial—mixed-use projects in the San Diego market has been One Paseo, a massive new development in Del Mar Heights currently under construction, which will add retail, residential and office space to the otherwise decentralized submarket, CBRE SVP Matt Carlson told GlobeSt.com in September.