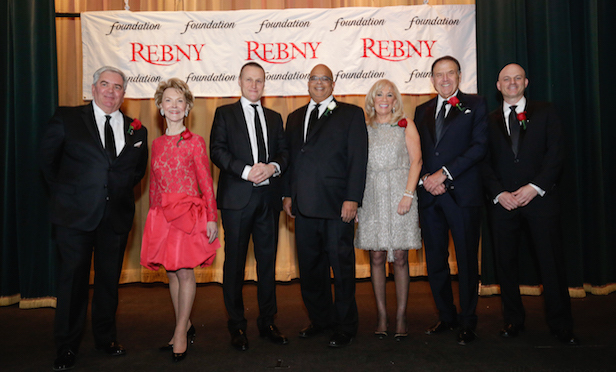 NEW YORK CITY—The Real Estate Board of New York's new chairman, William C. Rudin, and president, John Banks, welcomed a convivial crowd of close to 2,000 guests gathered at the Hilton Midtown on Thursday night.
Tickets for REBNY's 122nd annual banquet cost $1,200 per person. But the event offered opportunities to network and to say hello to politicians including Mayor Bill de Blasio and New York Attorney General Eric Schneiderman, business leaders and some of the highest profile names in New York's CRE world.
Women wore sequins, silk, lace and standard New York black and men dressed in dark suits. Attendees mingled at a cocktail reception before heading to the Grand Ballroom to eat dinner, watch the brief awards program, exchange business cards and to socialize.
Despite some of the sobering real estate statistics of 2017 including the declines in retail rents, the extroverted crowd shared an optimistic, celebratory mood. Rubin and Banks periodically reminded attendees to lower their voices (or to stop talking) during the awards program.
This year, REBNY recognized US Senator Charles Schumer with the John E. Zuccotti Public Service Award, praising his leadership in urban improvement. REBNY acknowledged Sen. Schumer's support of building the city's infrastructure and developing the West Side. Although Schumer was not on hand to accept the award—Banks attributed this to the senator's being in Washington DC to represent the people of New York.
Rob Speyer, president and CEO of Tishman Speyer, was presented with the Harry B. Helmsley Distinguished New Yorker Award. This recognizes an industry member for contributions to civic welfare and the real estate community. Speyer was recognized for serving as the past chair of REBNY from 2013 through 2017, leading the organization through two mayoral administrations, and selection of REBNY's first new president in 30 years.
Elizabeth Stribling, founder of Stribling & Associates, received the Bernard H. Mendik Lifetime Leadership in Real Estate Award.
Richard LeFrak, CEO and chair of LeFrak, was honored with the Kenneth R. Gerrety Humanitarian Award.
Joanne Podell, executive vice chair at Cushman & Wakefield, was recognized with the Louis Smadbeck Memorial Broker Recognition Award.
Gene Boniberger, senior vice president and director of building operations for Rudin Management Company, received the George M. Brooker Management Executive of the Year Award.
Ron Lo Rosso, president of Cushman & Wakefield's agency consulting group, was presented with the Young Real Estate Professional of the Year Award.