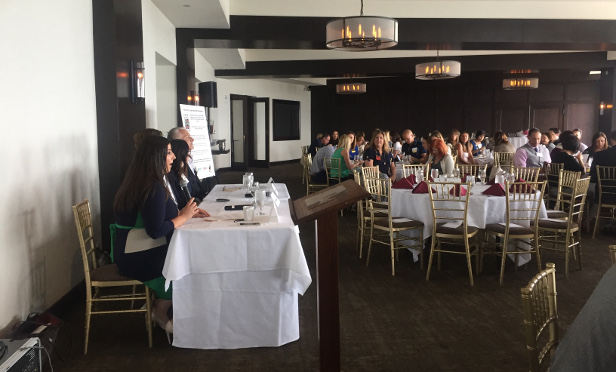 SAN DIEGO—By breaking down large blocks into smaller, more densified spaces and playing up to the strengths of the nearby San Diego River, the Mission Valley submarket is undergoing a major transformation, said speakers at yesterday's CREW San Diego lunch event. Moderated by Jennifer Liltwak, executive director of Housing on Merit, the event, titled "Urban Retrofit & Redevelopment in Mission Valley," highlighted the Mission Valley Community Plan Update and two major projects that dovetail with that update.
Nancy Graham, senior planner for the City of San Diego Planning Department, said the focus on the update is on transit, which, despite a trolley stop in Mission Valley, has not been strongly used outside of transportation to Qualcomm Stadium. With the Chargers' recent San Diego exit, however, the plan aims to create an urbanized, walkable community that will ramp up trolley use in and out of Mission Valley. In addition to breaking down large sites, Graham says stakeholders "want to keep the high-quality development that's already there, but create horizontal mixed use" to develop a more complete community. "It might seem counterintuitive, but Mission Valley was all designed for cars, not urban use mixed-use, and most residents are not taking advantage of the trolley." She says the goal is to make the spaces in between buildings better and much more urban, to complete infill development and focus on the river and a public park in order to create a dynamic new environment. Mission Valley, she says, needs transit, open spaces and an urban experience.
Developer Casey Brown, president and founder of the Casey Brown Co., gave a presentation on his firm's high-profile Mission Valley creative-office project Amp&rsand, the former Union-Tribune headquarters, which has relocated Downtown.) The project creates something new out of an iconic building, turning loading docks into outdoor workspaces, creating a courtyard surrounded by floor-to-ceiling glass buildings and developing a walk path for entry into the buildings.
The project's name represents a "more connected world" the "catalyst for evolving ideas" and "respects the print history of the Union-Tribune," said Brown. Other features of the project include more than 14,000 square feet of patio space, high-volume buildings, a waffle-lid ceiling, floor-to-ceiling class windows throughout and a variety of common amenities including a 6,000-square-foot manned fitness center, on-site coffee and juice, a treehouse, a concierge service with handlers for various services, bicycles to use the park and bike trail being created in Mission Valley and premium underground parking.
Todd Majcher, VP of Lowe Enterprises, gave an overview of his firm's planned renovation of the Town & Country hotel in Mission Valley. Lowe acquired the asset three years ago and plans to restore it using a "good vision that speaks to the Community Plan Update," said Majcher. His firm did extensive public outreach regarding the 1950s-built hotel and will aim to restore the richness in architecture of the original property to reveal "what Town & Country can be in the future." Lowe will be downsizing the hotel to approximately 700 keys, downsizing the attached conference center, creaing a new parking structure to service the hotel and adding back multifamily units in four nearby abandoned residential parcels that the firm also purchased.
The Town & Country project creates a "front door to the river," which is a major focus on the plan update, and will be the first project to envision the update, Majcher said. It will benefit the community by creating jobs and providing an 8.1-acre habitat restoration, among other pluses.
Graham said as part of the update, developers must incorporate the river into its plans via walking paths and other elements that draw people to the river.
Majcher said the project has been challenging to Lowe not only because the land value takes away its ability to develop, but also because the change from surface parking to structured parking is costly. In all, the firm is making a $20-million investment into the River Corridor, which is a significant gesture, but the river is an important defining feature of Mission Valley and could one day be "one of San Diego's gems, like Balboa Park."
The panelists said community outreach has been an important element of their business approach to all of the changes going on in Mission Valley. Majcher said his firm aims to build consensus by working with stakeholders to gain support. "It's important for Town & Country to fit into the existing concept."
Graham said there's a lot of interest in the plan update from residents and neighbors, especially people who live and work in Mission Valley. Because your residence and job can change, it's difficult to get buy-in for major long-term projects like the update, she added, but the City has held a kickoff event at the Scottish Rites Center, has provided online engagement and has invited local developers and architects to lend their expertise to the project, since the plan update is challenging.
"Community is an important word," said Brown. "Mission Valley didn't have that, and now it will." He said Amp&rsand will provide a good base for local jobs. "It's a good thing to be able to reuse a building—we're thrilled to be sustainable. Title 24 is a great rule to have; it will save the planet—along with bicycles." Ultimately, Majcher said, the goal is to provide a unique, authentic San Diego experience in Mission Valley.
When Litwak asked the panelists what types of development projects are most needed in Mission valley, Brown said Mission valley is well set; Graham said the market is in dire need of housing, "but we can't upzone too much" and Majcher said, "The Capital markets are still bullish on multifamily housing. We must get people out of their cars, so high-density development next to transit is needed and supported and in line with the community plan."