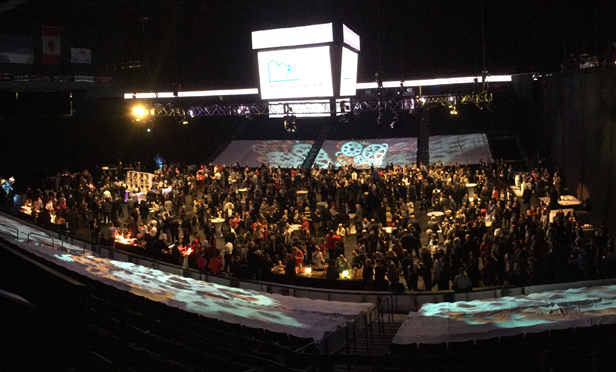 SAN BERNARDINO, CA—San Bernardino County is supporting dynamic business and job growth, and innovative business leaders in the region are proactively handling a disruptive economy, attendees of the recent San Bernardino County State of the County and Business Forum learned. The event drew 1,200 business professionals to Ontario Citizens Business Bank Arena to hear the County's strongly positive message, as well as how innovative county business leaders are proactively handling a disruptive economy.
Chairman of the Board of Supervisors Robert Lovingood shared that in 2016, 84,000 adults were trained in new industries in San Bernardino County to meet business demand and that more than 15,000 jobs were created last year in the county. "We intend to keep up that growth by listening to businesses to help them to become more successful."
Lovingood was followed by a video that featured top names in business who talked about the county's growth, business diversity and location advantages as well as the impact of disruption on business today.
According to featured speaker and Forbes publisher Rich Karlgaard, "What's exciting is that the world is moving in San Bernardino County's direction." He added that the greatest opportunity for companies in the region is to look at the success of digital-mapping firm Esri located at the heart of the region.
Jack Dangermond, Esri's founder and president, said, "This county has an amazing network of talented people, and since the end of the recession, a positive attitude that is encouraging the creation of new businesses." Esri, based in Redlands, is an international supplier of geographic-information-system software.
Karlgaard added how disruption is impacting most industries today, including manufacturing, transportation, education and healthcare, among others. County-based firms such as Esri, Vantage LED, Cott Beverages and GE Aviation are all working to take advantage of disruptive trends. "Our approach to dealing with disruption is to be the force that pushes it and to offer our customers the ability to take advantage of the technology stack upon which we are built," Dangermond added.
Chris Ma, founder, Ontario-based Vantage LED, a manufacturer of high-tech digital signs, said, "This is a multi-billion-dollar industry, and we are a disruptor by innovating new concepts and new software technologies."
GE Aviation's flight-test-engineering manager Joe Gavigan said, "The work we do here is crucial to the success of our business." GE's Flight Test Operation has operated in Victorville, CA, since 2003. "We have a whole fleet of new engines coming on line with the next generation of carbon fiber fan blades and 3-D printed parts, all developed at our Victorville flight test center."
Business and county leaders also noted that quality of life is key to attracting top talent, sharing that the county's mountains, valleys and deserts offer those who visit or live in the region an opportunity to work, live and play.
County leadership shared that the diversity of jobs in the county is changing and that the County is working to support more growth. Supervisor Josie Gonzales said, "We are vested in the future. Education is key to our success. This is where opportunity comes at a crossroads with the lives of our young people, who will be the future leaders."
Dangermond added, "Some of the people here are the best in the world. I just want to send a strong message to businesspeople in the region that the Inland Empire is waking up. It's the second-tier effect of economics in the world. There is a new generation of spirit that will lift up this region and show it as world class."
The complete event video is available at www.sbcountyadvantage.com.